Surge in Latino registration, but bloc's civic engagement still unclear
https://twitter.com/saramswann?lang=en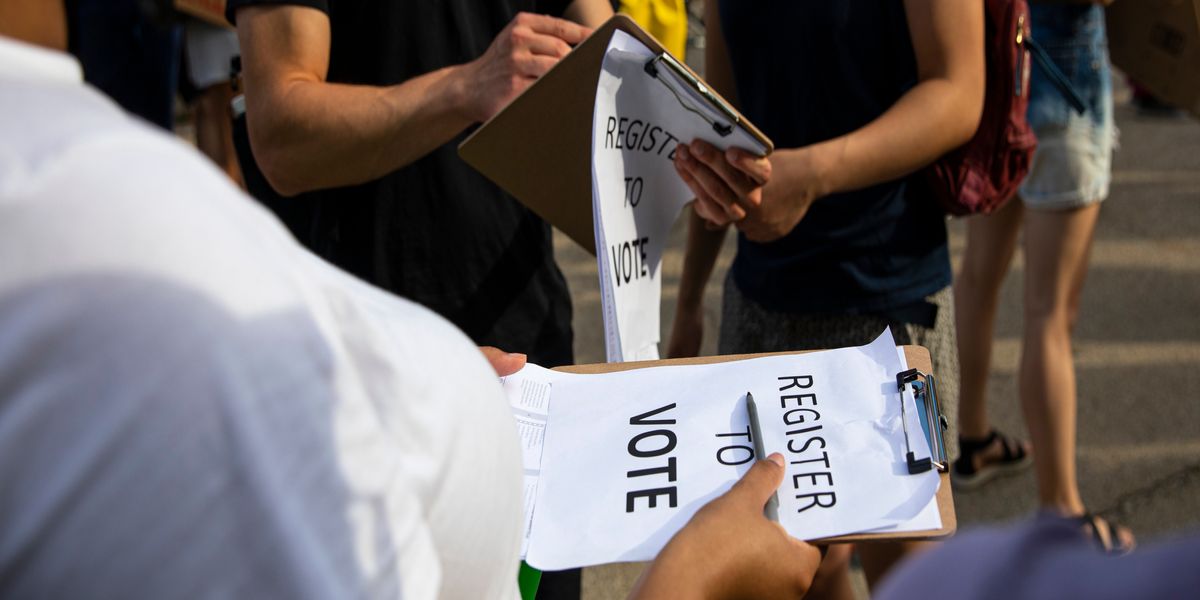 Robert Nickelsberg/Getty Images
The nation's most prominent Latino political engagement group says it's helped more than a quarter million people register to vote this fall, the most in the four presidential campaigns during the group's 15-year history.

Despite the coronavirus pandemic dampening "Get Out the Vote!" campaigns across the country, Voto Latino said Tuesday it is more than halfway to its ambitious goal of registering 500,000 people by Election Day.
Engaging and energizing the steadily growing Hispanic population could be pivotal in November: This will be the first presidential election in which they constitute the largest minority voting bloc — at almost 14 percent of all eligible voters. But there has been some recent angst, especially among prominent Latino Democrats, that their party is not doing enough to maximize support from Latino communities.
---
Just 40 percent of eligible Latinos cast ballots in the 2018 midterm, the smallest share by far among the four major racial groups. Boosting that percentage could help Joe Biden's efforts to carry the four competitive states where Hispanics as a share of all voters stand out: Texas (30 percent), Arizona (24 percent), Florida (21 percent) and Nevada (20 percent).
But Julián Castro, the former Housing and Urban Development secretary who was the only Latino to run for the Democratic nomination this year, says his party is not doing enough to support and attract Latino voters.
Sign up for The Fulcrum newsletter
"I think that we could win the battle and lose the war," he told Axios. "We could win in November, but you could see a potential slide of Latino support for Democrats."
Hillary Clinton took 66 percent of the Latino vote nationwide in 2016, but that was a 5-point drop from Barack Obama's showing four years earlier.
"Ensuring that the Latino community is a robust part of this coalition going forward" should be a goal of the party, Castro said, "Or else you're going to see a slide that will benefit the Republicans in the years to come."
With 11 weeks to go, Voto Latino hopes to build on its momentum and continue its digital-first voter outreach efforts. Of those registered so far, 70 percent are younger than 35 and almost three-fifths may now vote in Texas — which is becoming more closely contested at the presidential level than at any time in four decades and has 38 electoral votes, second only to California.
Part of Voto Latino's success comes from its decision to conduct an online-only campaign at the start of the year, months ahead of when other groups were forced to switch to digital due to Covid-19. "We turned the traditional model for voter outreach on its head and it's paying off," said the group's president, María Teresa Kumar.
The organization also pointed to the recent protests against police brutality and racial injustice as evidence young people are more motivated to vote this fall.
For the last presidential election, the group registered only 177,000 people but two years ago grew the number to 202,000.