Voter Registration Day combats a sharp decline in signups thanks to Covid
https://twitter.com/saramswann?lang=en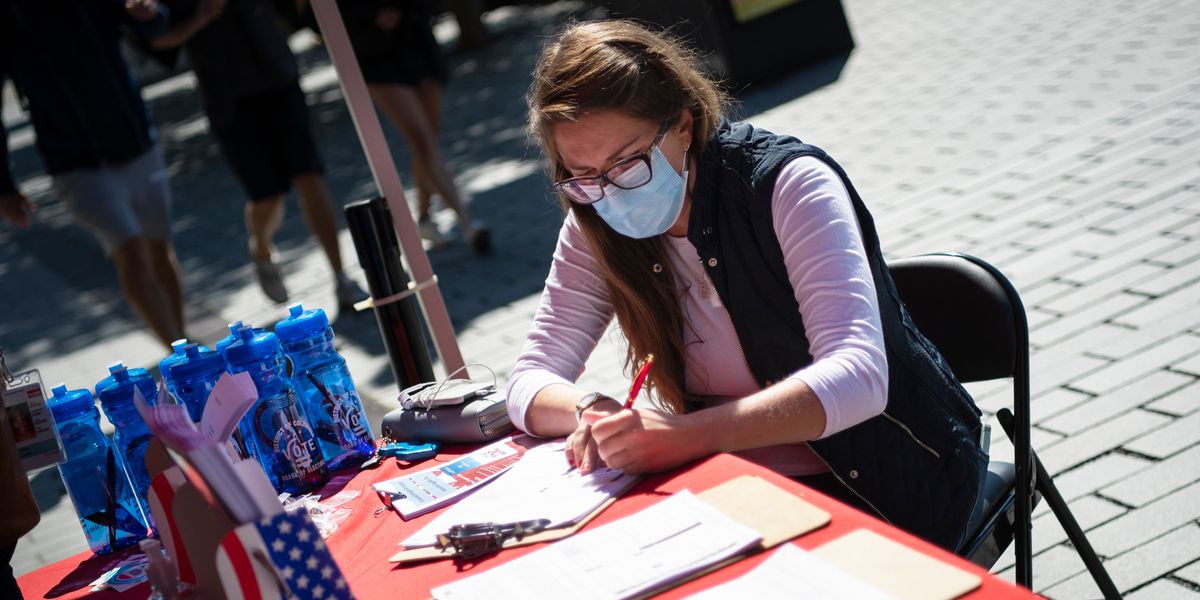 Caroline Brehman/Getty Images
Tuesday marks six weeks until Election Day and is National Voter Registration Day, a moment to turbocharge sign-ups before it's too late. But the significant blow the coronavirus has dealt to civic engagement this year leaves in doubt how many millions of eligible but still unregistered Americans can be found and converted on the unofficial holiday.

Fresh national numbers from the Brennan Center for Justice, a progressive think tank which does some of the most extensive research on democracy's challenges, confirm the drop in registration compared to the last presidential election. The organization's analysis of 21 states found 17 have watched registration rates plummet since four year ago.
With the first deadlines coming the first week of October in 15 states, a bevy of groups with sometimes similar sounding names have refocused — or been formed — to push the uphill goal of finding millions more willing first-time voters, with an emphasis on younger people.
---
The Brennan Center analyzed records of the 21 states that compile monthly registration data to compare how sign-ups are trending this year compared to 2016.
The most severe drops, 87 percent, were in reliably blue Maryland and Oregon. Battleground Wisconsin had the smallest dip in registration, just 2 percent. The average decline among the states was a whopping 38 percent.
Sign up for The Fulcrum newsletter
Just four states have seen increases in the past two years compared with the runup to 2016.
Another presidential tossup, Michigan, has seen a 23 percent boost in registrations. The others are reliably Republican Alaska (an astonishing 85 percent), Utah (31 percent) and Idaho (5 percent).
While it's not obvious why some states saw more success in registration than others, Covid-19 has certainly impacted the ability of many Americans to register this year. All but nine states offer online registration, which has been helpful at a time when in-person "get out the vote" events are not feasible.
Since the start of the pandemic in March, civic engagement groups have had to switch to a more digital approach for voter outreach. On National Voter Registration Day, these groups largely used social media, text and email blasts, virtual events and other online efforts to promote election participation.
RepresentUs, one of the most prominent political reform advocacy groups, is hosting a virtual roundtable Tuesday night with activists and celebrities discussing issues of democracy and racial justice. When We All Vote, a progressive voter engagement group, is hosting an all-day event on Instagram, featuring former first lady Michelle Obama.
Efforts to uplift the youth vote are also being made. Student PIRGs is enlisting its volunteers on more than 100 college campuses nationwide to help with outreach for its New Voters Project. The Alliance for Youth Action is supporting voter engagement efforts on more than 400 campuses through its Campus Takeover campaign.
Social media platforms have been involved in boosting voter registration as well. Facebook and Instagram launched a voter resource tool last month, and Twitter has promoted registration with the #VoteReady hashtag and other messaging on the platform. Users are also encouraged to share voting resources with friends and family to help increase participation.