Some NYC voters' ballot choices revealed by officials' latest error
https://twitter.com/saramswann?lang=en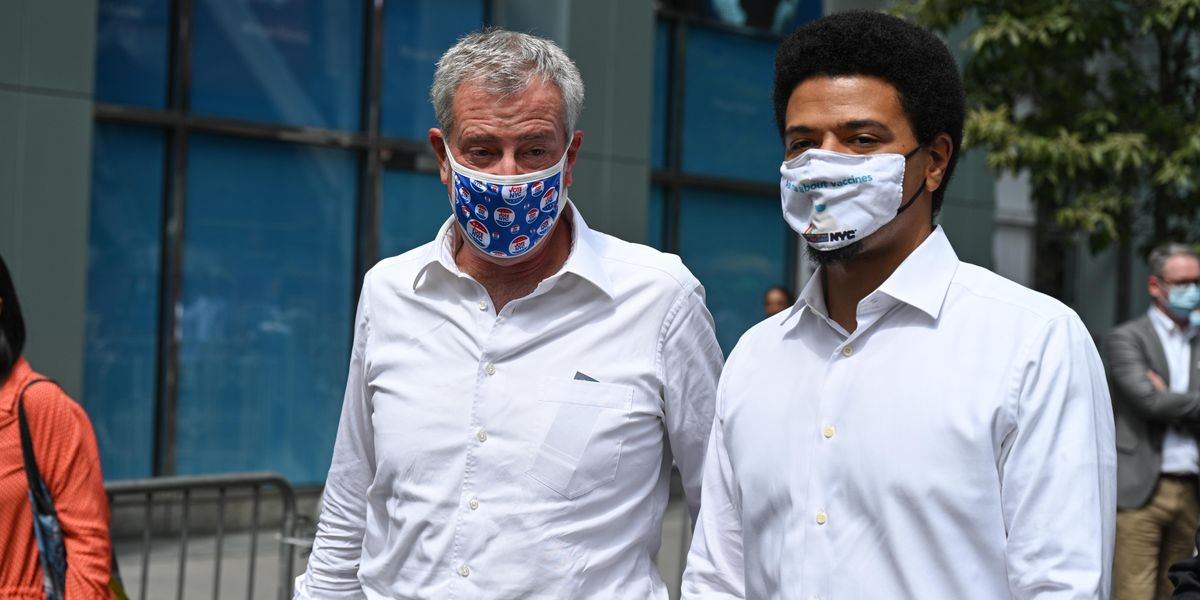 NDZ/Star Max/Getty Images
Ballot secrecy is a right every voter is supposed to be afforded. But for hundreds of New York City voters, including the mayor's son, their privacy was violated — further tarnishing the Board of Election' already damaged reputation.

Researchers at Princeton University's Electoral Innovation Lab and the Stevens Institute of Technology found that mistakes made by the New York City Board of Elections allowed them to inadvertently determine the ballot choices of 378 voters in the June mayoral primary. Their post-election analysis was released Monday.
While this is a small fraction of the 1 million votes cast overall, the error raises a major privacy concern and violates the New York Voter Bill of Rights secret-ballot provision. It's also another example in a long list of blunders made by the city's Board of Elections.
---
The New York City Board of Elections is required by law to release the vote records after each election, which lists the ballot choices made by a voter as well as the voter's precinct. To anonymize the voter records, an additional step is taken to associate the vote records with numerical identifiers rather than the voter's name.
Precincts with only a few voters are typically bundled with another larger precinct. However, for this year's primaries that step was not taken. This meant that in precincts consisting of only one voter, that person's ballot choices could be matched up with the voter rolls, leading to their identification.
Sign up for The Fulcrum newsletter
Jesse Clark, a postdoctoral researcher at the Electoral Innovation Lab, Lindsey Cormack, a political science professor at the Stevens Institute of Technology, and Sam Wang, director of the Electoral Innovation Lab, discovered that misstep made it possible to identify 378 voters.
Mayor Bill de Blasio's son, Dante, was among the voters identified through the researchers' post-election analysis, along with former Deputy Mayor Robert Steel.
"I am appalled by this violation of my privacy," Dante de Blasio, a registered Democrat, told The New York Times. "My main concern is not that people will know who I voted for, but rather that the B.O.E. has repeatedly shown complete incompetence and still hasn't been reformed by the state. Hundreds of my fellow voters have had their right to a private ballot violated by the B.O.E.'s blatant carelessness. Enough is enough."
This privacy issue is the most recent mishap caused by the city's election officials. In June, following the mayoral primaries, the Board of Elections accidentally included 135,000 test ballots in an official vote tally. Ahead of the November general election, nearly 100,000 voters were mailed absentee ballots with incorrect names and return addresses. And last year's races were also plagued with numerous problems that resulted in extremely long vote-counting delays.
A spokesperson for the Board of Elections told The New York Times that the manner in which the voter records were reported is legally mandated.
To prevent another privacy violation, the researchers said an easy fix would be to return to the past practice of lumping single-voter precincts in with larger ones so that it's no longer possible to identify individual voters. However, election officials say that method was not legally permissible and would require a change to the city charter.
"It is our hope that by raising this issue we may better protect the privacy of voters in New York City in a way that preserves important access to election data," the researchers' report concluded. "These two interests — voter privacy and data transparency — do not have to come into conflict. By allowing re-aggregation of small precincts, neither principle would have to be sacrificed."