Senators push vote-at-home as part of new virus-related economic stimulus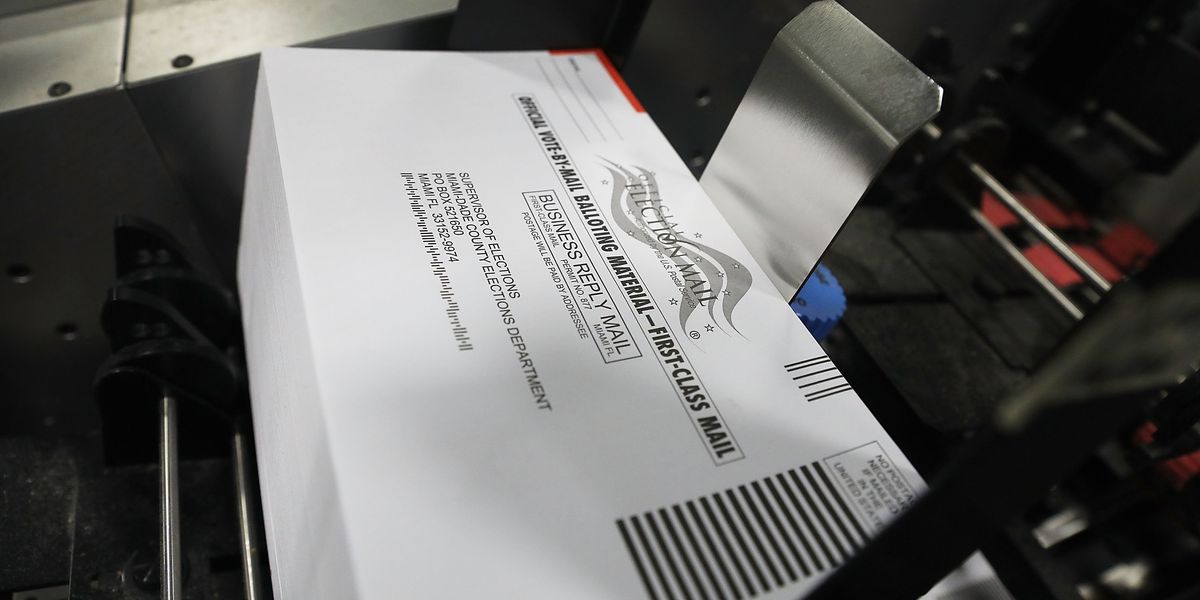 Joe Raedle/Getty Images
The way the whole country votes would be fundamentally transformed, and election regulations could become simpler and less contentious, under a proposal that a pair of prominent Democratic senators are working to attach to the next coronavirus response package produced by Congress.

Their draft bill would require every state to arrange for all voters to receive paper ballots they could fill out at home and then deliver or send through the mail, as well as a lengthy period before Election Day for those who want or need to vote in person. And it would allocate federal aid to cover at last some of the cost.
Such a sweeping federal mandate has long been a moonshot aspiration for many in the world of democracy reform, who say establishing vote-at-home systems as the national norm would boost turnout and make elections much easier to conduct and tabulate reliably. Those advocates now view the Covid-19 pandemic and this new season of national self-quarantine as a unique opportunity to realize their dream.
---
Doing so will require a fundamental shift in attitude by congressional Republicans, led by Senate Majority Leader Mitch McConnell, who have steadfastly opposed all measures they view as nationalizing election administration — now almost totally the purview of states and counties.
Sign up for The Fulcrum newsletter
The coming negotiations between the administration and Capitol Hill provide an opening. On Tuesday, the White House is expected to send Congress the outlines of an $850 billion package to stop the economic free fall triggered by the novel coronavirus — the third and by far the most ambitious potential legislative response to the pandemic.
While it will be centered on stimulating the economy with federal cash, potentially including direct payments to taxpayers, the enormity of the price tag and recent bipartisan pledges of collaboration could lead to the inclusion of policies — and money — aimed at boosting public confidence in American institutions vulnerable to the disease's spread, elections high on the list.
President Trump said Monday he opposes postponing the Nov. 3 national election, while Louisiana, Georgia and Kentucky have delayed their primaries and Ohio's presidential voting on Tuesday was suspended at the last minute.
The vote-at-home bill's sponsors, Amy Klobuchar of Minnesota and Ron Wyden of Oregon, have not said how much in federal spending they will propose. An earlier and less-ambitious version from Wyden called for $500 million in grants.
The two said Monday they would formally introduce a bill "to help election officials meet this pandemic head-on."
"Our legislation will guarantee every voter a secure mail-in paper ballot and help states cover the cost of printing, self-sealing envelopes, ballot tracking and postage," they wrote in an op-ed for The Washington Post. "Vote-by-mail is a time-tested, reliable way for Americans to exercise their constitutional rights, and it is the right response to this crisis."
The senators were not clear on whether they would propose a permanent switch, or a one-time experiment in the name of public health.
Their push will have a particularly high profile now that Klobuchar, having recently ended her presidential campaign, is presumably on the vice presidential short list of former Vice President Joe Biden, the Democratic front-runner who promised on Sunday to choose a woman as his running mate.
She is the top Democrat on the Senate committee that writes legislation about elections. Wyden's home state of Oregon was the first to institute vote-by-mail exclusively.
Washington, Colorado and Hawaii round out the four states where, for every election, everyone is now sent a ballot that can be mailed or delivered. At the other end of the election convenience spectrum are the 10 states that do not have early in-person voting on the books for 2020: Alabama, Connecticut, Delaware, Kentucky, Mississippi, Missouri, New Hampshire, Pennsylvania, Rhode Island and South Carolina.
The bill would augment a nationalized vote-by-mail option with early voting so that the disabled, in particular, could mark their ballots with special help at polling places.
"We're in a national emergency for which federal leadership is most important. States and local elections offices can't bear the burden alone," Klobuchar and Wyden wrote. "Our bill ensures they have the resources and guidance necessary to protect the constitutional rights of every American voter and keep democracy functioning as we weather this disaster."