Students voted in record numbers last year. Will they turn out again in 2021?
https://twitter.com/saramswann?lang=en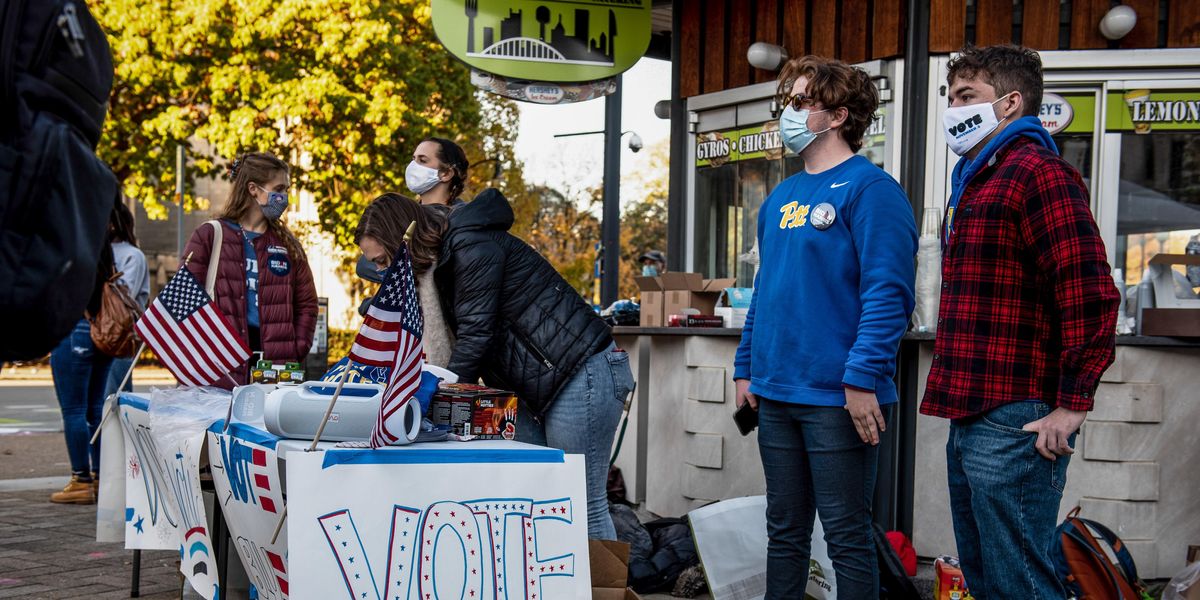 Aaron Jackendoff/Getty Images
One year after the contentious presidential election, voters are headed to the polls again Tuesday to decide a slate of key statewide and municipal contests. Young people will be an especially important voting bloc to watch after they turned out in record numbers last November.

Two-thirds of college students cast a ballot in the 2020 election, according to a report released last week by Tufts University's Institute for Democracy and Higher Education. This record turnout was a 14 percentage point jump from 2016, putting the student voting rate on par with the national average.
But Tuesday's elections will also be a test of the dozens of state voting laws enacted this year. While some states expanded access to the ballot box, others tightened rules around voting. And many of these new voting barriers will have a disparate impact on students, especially young people of color.
---
Despite higher education and the election being upended by the pandemic, students still turned out in droves for the 2020 presidential contest. More than four-fifths of eligible student voters registered, and of those registered voters, 80 percent cast a ballot, signifying young people's high motivation to get out the vote.
"We attribute this high level of participation to many factors, including student activism on issues such as racial injustice, global climate change and voter suppression, as well as increased efforts by educators to reach students and connect them to the issues and to voting resources," said IDHE Director Nancy Thomas.
Sign up for The Fulcrum newsletter
Young voters face unique challenges because they are often first-time voters and they are highly mobile so their voting address is often subject to change. Educating young voters about the election process, as well as the many new laws enacted by state lawmakers this year is a high priority for civic engagement groups.
With limited in-person interactions due to Covid-19, colleges had to find innovative new ways to engage student voters. At the University of California, San Diego, school officials integrated voter registration with Covid-19 testing. Students were given a QR code to register to vote while waiting to be tested. At Piedmont Virginia Community College in Charlottesville, students take a civic engagement course within their major as part of a five-year plan to encourage civic learning and participation on campus.
UCSD's student voting rate was 71 percent in 2020, a 27-point surge from four years prior. Student turnout data for PVCC was not yet available.
The National Study of Learning, Voting and Engagement is the most comprehensive analysis of college and university student voting in the country. The study has been conducted by researchers at Tufts after every general and midterm election since 2012. This fifth iteration of the study collected data from nearly 1,200 campuses of all types, including community colleges, research universities, minority-serving and women's colleges, state universities and private institutions.
Nearly all the campuses included in the study (97 percent) saw increased voter turnout in the 2020 election. The youngest college students (18- and 19-year-olds) voted at slightly higher rates than their older peers.
Asian American students had the biggest increase in voter turnout: a 17-point jump from 2016 to 2020. While this boost was a significant improvement, Asian American student turnout (51 percent) still lagged 20 points behind white student turnout (71 percent).
At 66 percent, multiracial students had the second highest turnout rate behind white students, followed by Black students at 63 percent and Hispanic students at 60 percent.
Women students of all races and ethnicities continued to vote at higher rates than men. Overall, 64 percent of women cast a ballot in the 2020 election, compared to 58 percent of men. White women had the highest turnout rate at 73 percent, while Asian American men had the lowest at 46 percent.
Moving forward, researchers at Tufts will be exploring the different factors that motivate and hinder student voting. Those findings will be released in a second report later this fall.