The legacy of Jan. 6: Was justice served?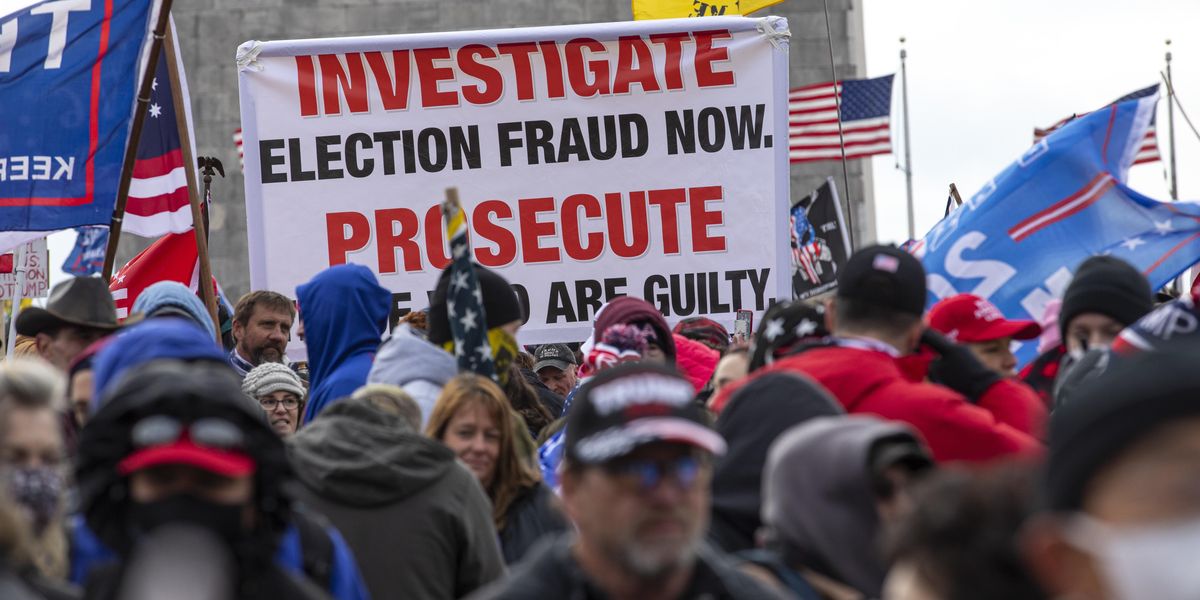 Robert Nickelsberg/Getty Images
Thomas is an assistant professor of psychology at the University of Indianapolis and a public voices fellow through The OpEd Project.

As news of text messages emerged in the ongoing investigation about the Jan. 6 insurrection, and federal lawsuits were filed, it became clear last month that the facts of that day would continue to unfold into 2022.
Approaching this first anniversary, it is critical to remember the lives lost and the trauma endured, but also to uncover the underlying psychological mechanisms that led to the attack.
---
For almost 10 years I have been researching perceptions of justice, and I have found that justice is a profound motivator of human behavior above and beyond personal gain and consequences.
When people perceive an injustice, they delegitimize the authorities at hand, which often causes them to disregard the rules. People typically obey the laws not because they feel coerced, but because they legitimize the authorities and voluntarily cede to their authority.
Research shows that people attribute legitimacy to those whom they see as fair and just, and that perception of justice guides their actions. A student who perceives their school resource officer to be fair and respectful will be more likely to report obeying the police outside of school.
Sign up for The Fulcrum newsletter
A pilot study of juvenile offenders showed it could improve their attitudes towards the justice system when they felt respected and heard. In contrast, when they do not perceive authorities to be legitimate, citizens are most likely to violate the law.
Hindsight enables clarity, but the Jan. 6 insurrection should not have been a surprise given the science behind how people react when they perceive an injustice. In a recent Marist poll, only 33 percent of Republicans said they will trust the results of the election if the candidate they support loses. This lack of trust is alarming because the strongest path to social order is by voluntary deferral to authorities that are perceived to be legitimate.
Perceived justice predicts the granting of legitimacy, which leads to voluntary law-abiding behavior. This psychological process has been researched in the family, the school, with the police and with the laws.
My colleagues and I followed almost 800 children, ages 11-14, and found that how fair and respectful they rated their parents predicted how legitimate they perceived them to be, which in turn was the strongest predictor of their compliance with family rules.
This pattern is also found in the school. When students felt fairly treated they legitimized their teachers and followed the rules. Adolescents' perceptions of justice longitudinally predicted their legitimacy of the law and rule-violating behaviors such as vandalism and petty theft. And criminal justice offenders' ratings of justice explained differences in future offending behavior in a longitudinal study.
The patterns are consistent across environments and systems. The perception of justice is a very flexible notion that can be easily modified and used as a weapon to corrode the social functioning of a group.
With this understanding, the events of Jan. 6 are alarming but not surprising, given the number of people who believed the election was rigged.
In experimental studies, participants will often take a personal loss over allowing an injustice. At a larger level, this helps explain the misplaced notions of self-sacrifice that festered on Jan. 6 when so many rioters interpreted democratic proceedings to be an expression of injustice.
Justice is understandably a vast concept, but researchers have narrowed down specific aspects of justice that drive legitimacy attributions, and procedural justice is consistently the main actor.
Procedural justice is about how fair the process was in the interaction with authority figures. Its main pillars are respect, voice, transparency and trustworthiness. In practice, procedural justice is often about treatment, asking if the authority treats people with respect and neutrality and if the process was transparent and if they were given a voice.
When systems or people uphold procedural justice, people might even disagree with the outcome, but they likely will continue to legitimize the authority.
Some ask me what I miss the most about my native Brazil, and I will always say the people. But what I do not miss are the systems: the authoritarian bureaucracies in every ounce of paperwork, the pervasive lack of security, the shadow of a recent military dictatorship.
As an immigrant, I have an imperfect-but-still-alive trust in the American democratic system. It is flawed and unequal, but it is still standing. Though flawed, American systems are not as flawed as they are in many other countries with longer legacies of corruption and authoritarianism.
I consider that the American dream is built on the notion of a just system as well as a democratic voting system that is transparent and procedurally trustworthy.
Justice motivations can be used to explain the good, the bad and the very ugly; but its power is undeniable. They can be harnessed for social change, but they can also bring down a giant of democracy.
The psychological human mechanisms shaking the American democracy are also being used to rattle the systems of governance in many other nations. As president running for a second term, Jair Bolsonaro rehearses rhetoric for a Brazilian version of Jan. 6 version later this year.
Jan. 6 was not a psychological anomaly. Delegitimization and rule-violating behaviors are the most psychologically predictable outcomes when notions of injustice spread virally.
Seventeenth-century lawyer and author Voltaire wrote, "Those who can make you believe absurdities can make you commit atrocities."
Americans may have been surprised by the Jan. 6events, but history was not.