How young people are modeling bipartisanship in a polarized world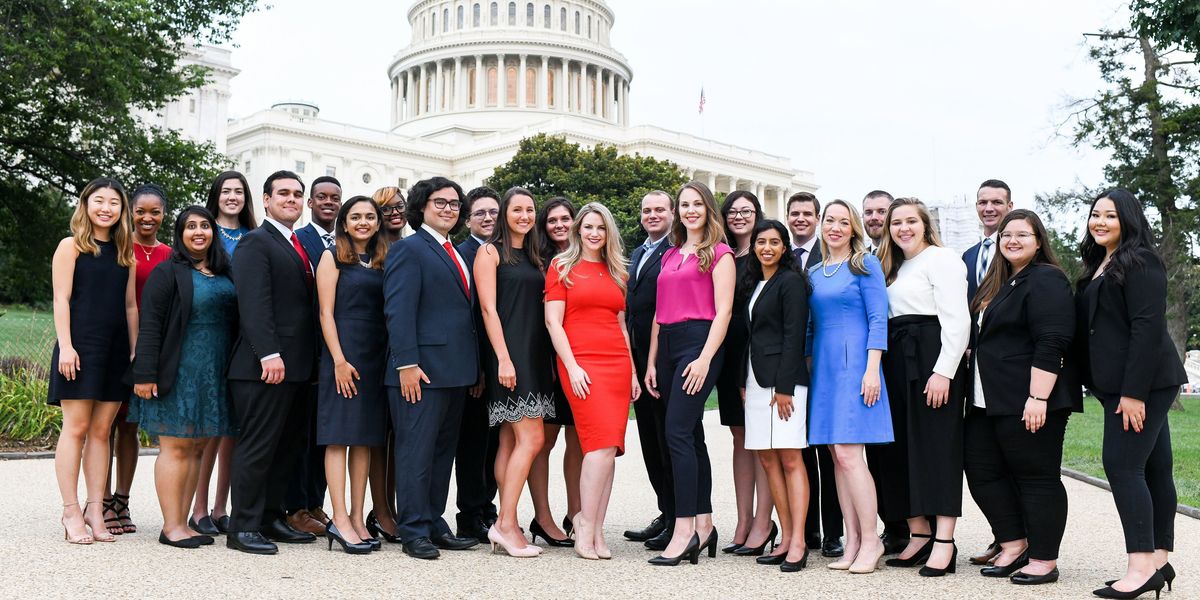 Photo courtesy College to Congress
Henson is the CEO of College to Congress, a nonpartisan nonprofit that provides scholarships and professional development training to college students and recent graduates seeking careers in public service.
The Select Committee on the Modernization of Congress, a panel established this year to improve the efficiency and effectiveness of the House, recently hosted a hearing titled "Promoting Civility and Building a More Collaborative Congress."
As a former congressional intern, staffer and now the founder of a nonprofit that works to create a more collaborative and effective Congress, I was thrilled to see a hunger for stronger bipartisan relationships. I was even more pleased to see elements of our program align with best practices established by experts.
College to Congress is building a pipeline of public servants that reflects the full socioeconomic diversity in America. We help Pell-grant-eligible and other students from low-income backgrounds secure congressional internships and cover all expenses associated with a summer in D.C. Bipartisanship is present in everything we do, from our board to the congressional offices we work with — even within our intern class.
---
Bipartisanship does not happen by chance. You must be sincere in your desire for bipartisanship and then be intentional about putting time, space and effort in pursuit of that goal.
Sign up for The Fulcrum newsletter
Here is how we create space for bipartisanship in a polarized world.
Start from within. I started College to Congress after the 2016 election. I'd just finished working as a campaign manager in a contentious congressional race and I was at a turning point. I was sick and tired of looking at the world through an Us vs. Them lens. I believed in the power of politics as a vehicle for social change, but I wanted to make friends, not enemies. Both Democrats and Republicans had played critical roles in my career. One of my earliest decisions was to make ours a nonpartisan organization.
You cannot change or improve something you first do not acknowledge. I actively work to cultivate a community of people with diverse viewpoints, backgrounds and political ideologies in my personal and professional life.
Find common ground outside of politics. A hallmark of our curriculum is the Bipartisan Ally Program, designed to foster healthy relationships and learning experiences across the aisle. We pair interns and allies over a shared non-political interest. This gives each party a "safety" issue to return to throughout the course of the relationship and helps them view the other as a person, not a political opponent.
For example, Jay, who is a progressive Asian male from New Jersey, was paired with Ryan, a white, male, conservative student, veteran and parent from Ohio. They not only bonded over shared experiences overcoming financial hardship to pursue their dreams — Jay famously walked six miles to work in Congress every day in a safety-pinned suit because it was all he could afford — but also over their fondness for food, sports and supporting the military. They discussed mutual interests before they let politics change their image of one another. Jay and Ryan discovered that on the surface, they held different ideological beliefs, but at their core they had the same ideological goal.
Schedule regular time for bipartisanship. At the hearing, prepresenters recommended regular and curated opportunities for bipartisanship. We do this as well. Our interns live together. We regularly schedule group trainings and social activities for each cohort.
Notable proposals from the hearing include:
Establish an annual bipartisan retreat.
Consider bipartisan seating on the House floor and in committee hearings.
Make new-member orientation more nonpartisan.
Adjust the congressional schedule so that members have more time to spend engaging in policy deliberations and building bipartisan relationships.
Like any relationship, you have to nurture it to grow.
Acknowledge that differences bring perspective. Capitol Hill internships are the gateway to a career in Congress. However, unpaid and low-paid internships discourage applications from talented students with little money and a limited network. I took out a $6,500 student loan and worked two part-time jobs to afford my internship. Congress was a culture shock as I transitioned from rural Texas to affluent Washington. Despite the fact that I'm a white woman, who on the outside looked like many of my peers, I wrestled with imposter syndrome because of my upbringing and financial status.
When we have a homogenous congressional staff that lacks diversity in ethnicity, gender, geography, socioeconomic status or even political party, we get legislation that misses the mark.
Last summer, we hosted our largest and most diverse class of interns ever, including students from California to Georgia, the LGBTQ community, veterans, parents, a Muslim, a Hindu, immigrants and the grandchild of a Holocaust survivor. More than 60 percent were first-generation college students, 30 percent were first-generation Americans, and one was an undocumented "Dreamer." We need all of these perspectives at the decision-making table.
Identify a shared goal. My time working with Congress taught me that the laws with the biggest impact are those enacted by bipartisan majorities. Though states and congressional districts have their nuances, more than 60 Democratic and Republican offices have rallied behind our shared mission of creating a more inclusive, reflective and effective democracy. This is why we charge our interns with conducting a bipartisan research project on an issue area of shared interests. It encourages foundational values, like listening and compromise, to seek consensus.
Thankfully, Congress is moving in the right direction. The select committee has rightfully earned a reputation for being one of the most bipartisan in Congress. In July, it
unanimously approved 24 recommendations
to improve staffing, IT, accessibility, and diversity and inclusion. I am optimistic about the future of our country and our return to civility and effective governance.