Reform in 2021: FairVote begins ambitious, nationwide RCV campaign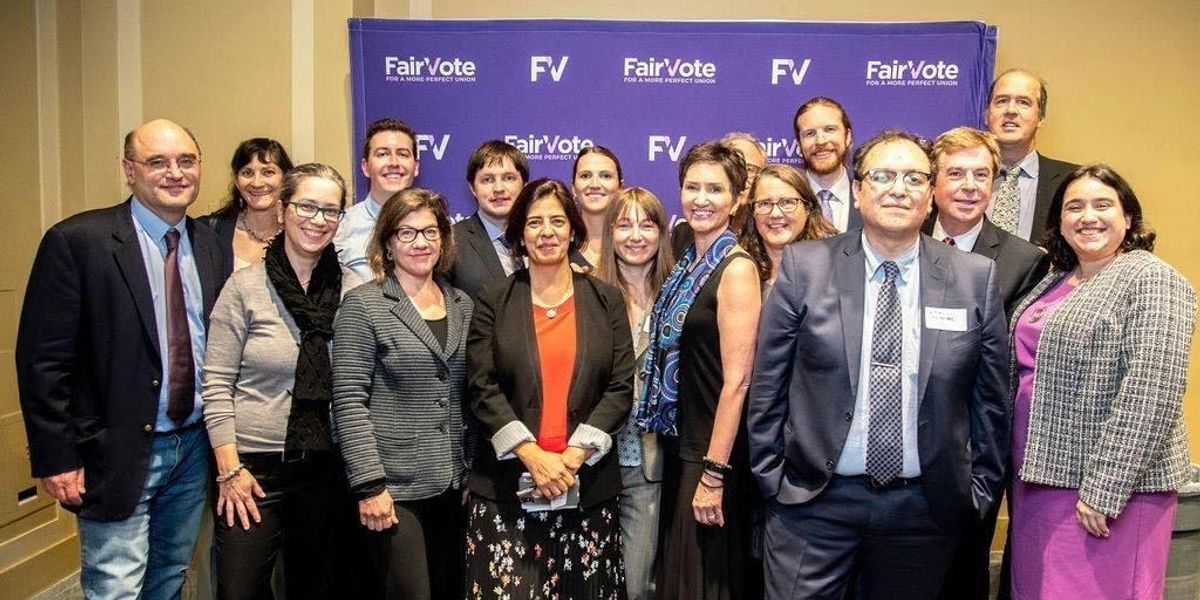 Courtesy FairVote
This is the eighth installment of an ongoing Q&A series.

As Democrats take power in Washington, if only tenuously, many democracy reform groups see a potential path toward making the American political system work better. In this installment, FairVote President and CEO Rob Richie answers our questions about 2020 accomplishments and plans for the year ahead. His organization advocates for more equitable election methods and in recent years has led the fight for ranked-choice voting. Richie's responses have been edited for clarity and length.
---
First, let's briefly recap 2020. What was your biggest triumph last year?
As the long-time national leader on ranked-choice voting, it was remarkable for FairVote to experience its magnificent progress nationwide — with those gains often led by state leaders, but rooted in our analysis and direct support as needed. The movement's victories and momentum included the ballot measure win in Alaska to use RCV for all general elections, the historic use of RCV in five Democratic presidential primaries and three Republican state conventions, six city ballot measure wins, and at least 17 editorial-board endorsements.
Of course, nothing could quite top reaching the final of The Fulcrum's Democracy Madness!
And your biggest setback?
Ranked-choice voting lost on the ballot in Massachusetts. It feels different to win 45 percent of the vote rather than the 52 percent in the 2016 victory in Maine. But there was remarkable hope in that result, nevertheless: 80 percent of Massachusetts voters under 30 backed RCV. Even in this temporary setback, you can see the future coming.
Sign up for The Fulcrum newsletter
What is one learning experience you took from 2020?
We need RCV to solve real problems we face today. More than 3.3 million presidential primary votes this year were "wasted" — they were cast for candidates who dropped out before election day. If we're going to expand early voting, we also need to protect voters with RCV.
We also know ranked-choice voting can win on the ballot — it's won 13 of 14 times in the past five years, including in two states. But ballot measures need good targeting and timing — and more broadly, can often be avoided. As more lawmakers learn RCV can be a win-win solution to problems in our politics, we expect a rapid uptick in legislative victories.
Now let's look ahead. What issues will your organization prioritize in 2021?
We're excited to be in Year One of a new strategic plan that is governed by a holistic approach to how FairVote and our growing coalition of reform partners can win the Fair Representation Act in Congress and ranked-choice voting across all 50 states in the coming decade. For 2021, that means starting to engage with Congress on changes to advance RCV, expanding the national coalition of groups and thinkers ready to prioritize our reform goals, and supporting the RCV movement around the nation with educational products, media work and funding.
How will Democratic control of the federal government change the ways you work toward your goals?
It's hard to get things passed in Congress no matter who's in charge. That said, we have passionate congressional allies ready to help and we're deeply impressed by the organizing efforts behind legislation like HR 1 and the John Lewis Voting Rights Act. We'll engage with those coalitions, while prioritizing bills that advance RCV with bipartisan support.
What do you think will be your biggest challenge moving forward? And how do you plan to tackle it?
Our biggest challenge is what makes our work so compelling: Our elected leaders in Washington are disincentivized from enacting the very reforms that will heal our democracy. The state of our democracy is the single most urgent problem to fix, given its ripple effect across everything else. Because we want ranked-choice voting and ultimately the Fair Representation Act to win across all states, we need political leaders to trust that the fact that one party backed it in one state doesn't mean another party shouldn't back it elsewhere. We'll be transparent and uncompromising in our commitment to working with elected leaders of any party ready to support our reform vision.
The good news is that our elected leaders feel the same concerns for the future of our country — they want to live in a strong democracy where they are rewarded for representing their constituents. And validators from across the political spectrum are stepping up in support of ranked-choice voting in an unparalleled way. But we can't underestimate the gridlock in Washington, even when we see a way out of it.
Finish the sentence. In two years, American democracy will ...
... face deepening partisan rancor and disputes over what fair elections even means — yet more beacons of hope will show the way forward for necessary structural reforms