Nationwide push for voting restrictions barrels forward
https://twitter.com/saramswann?lang=en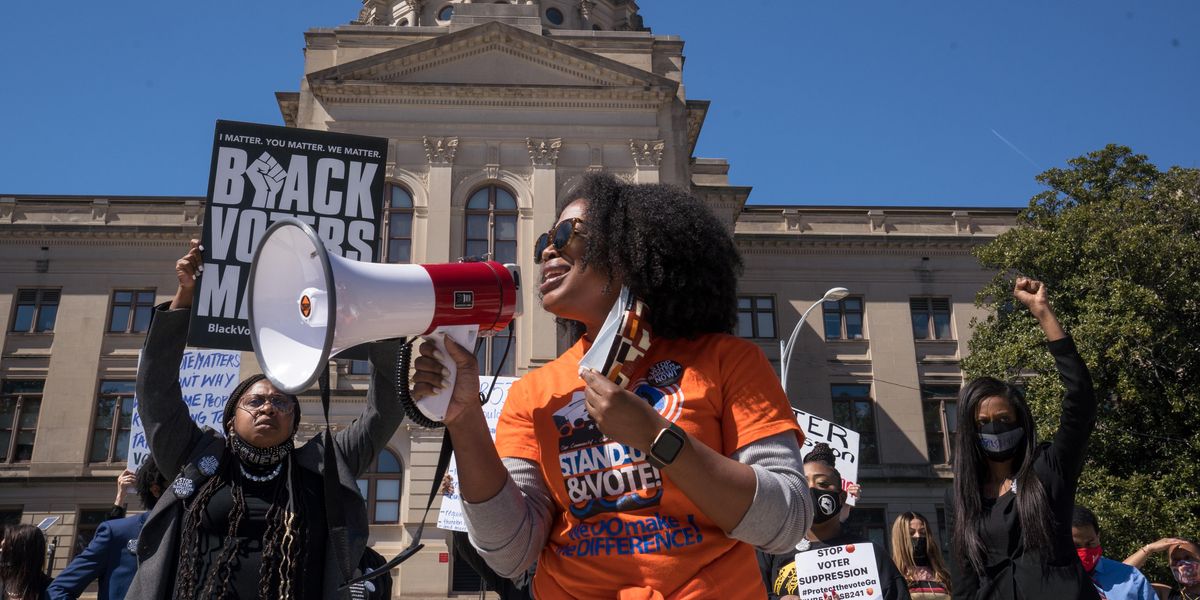 Megan Varner/Getty Images
Georgia Republicans are barreling ahead with election bills that voting rights advocates say are transparently anti-democratic and racist.

And while Georgia may be ground zero for voter suppression tactics, it's not the only state where Republicans are attempting to limit access to the ballot box. In the wake of the 2020 election, the Brennan Center for Justice has seen more than seven times the number of restrictive bills be introduced in legislatures this year compared to last year.
---
The Georgia Senate passed legislation Monday to roll back no-excuse absentee voting, which has been in place since 2005 and saw heightened use during last year's pandemic-era election. The bill — passed with a one-vote majority along party lines — would mandate that only those who are 65 or older, have a physical disability or are out of town would be eligible.
Majority Leader Mike Dugan, the bill's lead sponsor, said 2.8 million of the state's 7.7 million voters would meet at least one of the requirements. Those voters would also need to provide identification when requesting an absentee ballot.
Georgia is currently one of 34 states that has permanent no-excuse absentee voting. In the 2020 election, all but five states allowed every voter to cast a ballot by mail, at least temporarily due to the Covid-19 pandemic. One-fifth of the 5 million votes cast in the Peach State were by mail.
Sign up for The Fulcrum newsletter
The Senate action comes on the heels of the state House passing its own restrictive measure aimed at limiting Sunday voting, requiring an ID to vote by mail and eliminating drop boxes.
The House bill also takes aim at absentee voting, although it doesn't roll back eligibility. Under the measure, which was passed along party lines last week, Georgians would need to provide an ID to vote by mail. It would also move ballot drop boxes inside early voting sites.
Another provision would limit early voting. Currently, counties must offer early voting on the second Saturday before Election Day and are given the discretion to set any additional early voting hours. But this legislation would give counties just one Sunday as an optional early voting day.
Cutting back early voting on Sundays is a "transparent effort to reduce the voting opportunity that Black Georgians overwhelmingly use," said Jonathan Diaz, voting expert at the Campaign Legal Center.
Black voters accounted for 37 percent of the in-person ballots cast in Georgia on Sundays during the 2020 election, according to the Brennan Center, largely due to the "Souls to the Polls" voter drives organized by Black churches.
Nsé Ufot, CEO of the New Georgia Project, called these bills "a turducken of voter suppression" and clear retaliation from Republicans after Joe Biden won the state and both Senate seats flipped blue.
"They were shocked by the new Georgia and how it manifested itself and how they showed up in elections," she said. "And this is backlash. It's mean. It's petty. It's racist. It's anti-democratic."
With Republicans holding the majority in both halves of the General Assembly, each chamber is likely to pass the other's bill and send them to GOP Gov. Brian Kemp. The governor has yet to indicate whether he supports this legislation, but he has been accused of peddling voter suppression efforts in the past, including when he served as the state's top election official while running for governor.
Restricting ballot access, state by state
In Georgia and elsewhere across the country, these election reform efforts are steeped in partisanship. In nearly every state, Republicans are pushing restrictive measures while Democrats are advocating for expanded access to the ballot box.
This political tug-of-war is more acute in battleground states where the 2020 election was decided by slim margins.
For instance, in Arizona, Republican senators passed a bill Monday to require an affidavit or another form of ID to vote by mail. And the Senate is gearing up for another bill that would cut down on the time Arizonans have to vote by mail. Last month, however, lawmakers did narrowly block one bill that would have purged 200,000 voters from the permanent vote-by-mail list.
Also this week, Iowa, a state Trump won by 8 percentage points, became the first to enact tougher voting rules this year. On Monday GOP Gov. Kim Reynolds signed into law provisions to reduce the early voting period by nine days and prevent the state from proactively sending out vote-by-mail applications. The measure also requires absentee ballots to be received before polls close on Election Day.
Voting experts agree that vote-by-mail access should not be the partisan issue it's become following the 2020 election.
"All of the data and all of the research shows that it's used by both parties, and it's often actually used more by Republicans, who are the ones now sponsoring a lot of this legislation. I think it's just the result of this disinformation campaign around the security of absentee voting," said Liz Avore, vice president of law and policy at the Voting Rights Lab.
Restoring trust
It's not uncommon to see legislation amending voting procedures following an election, but what is unusual this year is the overwhelming volume of bills to restrict voting access, said the CLC's Diaz.
"And they're not coming after some major scandal that would justify tightening up these rules. There was no major fraud investigation," Diaz said. "But you have legislators saying we have to restore trust in elections, when the reason that people have lost trust and confidence in elections is because some of these state legislators have been telling people that the elections are riddled with fraud."
Republicans' main argument for rolling back absentee voting access is that it will boost election integrity, despite no evidence of widespread voting fraud in the 2020 election. But voting experts say there are more reasonable reforms lawmakers can consider that won't make it harder for people to vote.
The politicization of the voting process, in particular vote by mail, has caused a lot of Americans to lose trust in the election system. One way to build back that trust is for states to implement ballot tracking systems, said Hannah Fried of All Voting is Local.
"That is the kind of transparency that gives people confidence that their vote is going to be counted," she said.
Reaching out to voters to educate them on the election process and combat the spread of misinformation is also key to restoring trust. And modernizing systems with automatic voter registration would boost security, experts say.
On the federal level, experts point to legislation like HR 1 and the John Lewis Voting Advancement Act, which would implement national voting standards, while still allowing states and localities to adjust procedures based on what works best for them.
"Those are the kinds of things that would make our election system more accessible and more transparent and more secure," Diaz said. "And you don't have to reach for a manufactured voter fraud reason to make those changes."