Report cites a dozen narrow issues where partisan gridlock could be broken
https://twitter.com/saramswann?lang=en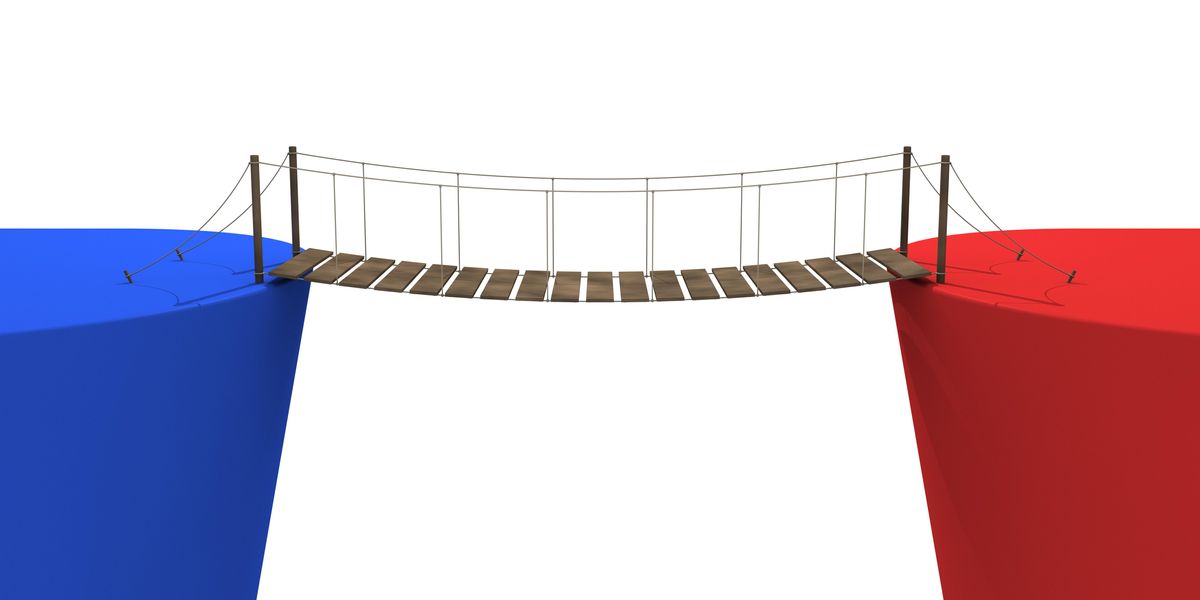 ZargonDesign/Getty Images
After an especially contentious election and with the coronavirus pandemic raging, American politics may feel as polarized as ever. A new study makes the case that there's still plenty of hope for bridging the partisan chasm on a dozen top-tier domestic issues.

Making government more transparent and trimming big money's sway over elections are the two good-government reforms on the list.
The 48-page report, released Thursday by three left-leaning advocacy groups focused on environmental policy, aggregates an array of research and polling by others before unveiling "a transpartisan agenda to rebuild trust and tackle America's biggest challenges."
---
By confining their debates to these areas, the groups say, the incoming Biden administration and the new Congress — which will either remain divided or be controlled by only the narrowest of Democratic majorities — can steer the country over the political divide and toward a healing process after years of political warfare.
"This moment of heightened polarization also contains the seeds of renewal," says the report, by U.S. PIRG, Environment America and Frontier Group. "The good news is that there are a surprising number of public policies on which Republicans, Democrats and independents share common ground."
They see such consensus behind the notion that boosting transparency and accountability are imperative to restoring trust in government, and that for starters deals are within reach to bolster the ethics of federal officials and improve citizen access to information about government spending decisions.
Sign up for The Fulcrum newsletter
Voters of both parties are comparably "sick and tired of expensive elections bankrolled by wealthy special interests," the report says, asserting it's possible to crack the partisan stalemate over campaign finance with proposals such as tax credits or matching grants for small political contributions.
Two areas are right in the wheelhouse of the groups who produced the report. The growing influence of younger voters is at least "opening the door to forge bipartisan agreement on specific policies around the edges of the climate debate." And tax credits for wind and solar power remain broadly popular, so there should be bipartisan support for their renewal — if only to spur the economy as the pandemic abates.
Other areas for compromise it sees include the establishment of a national lending institution for infrastructure projects, an expansion of national service programs, bolstering public access to broadband internet and revitalizing career and technical education.
Maybe most optimistically of all, the groups see hope for measures "to keep guns out of the hands of potentially dangerous people."
While there is not necessarily broad bipartisan support for more ambitious proposals on all these areas, the report says "it is precisely by working together to implement change in narrow areas of agreement that our government can begin to get its transpartisan 'muscles' working again."
Previous bipartisan cooperation has led to important policy decisions, including civil rights legislation in the 1960s, environmental laws in the 1970s, tax code simplification in the 1980s, the Americans with Disabilities Act in the 1990s and the campaign finance reform of the 2000s, the report notes.
"Research shows that increasing one's contact with members of another group is a consistently effective way to reduce prejudice and misunderstanding," the report says. "By partnering on a shared agenda, Americans of good faith may come to recognize that politics does not have to be a theater of total war, but can be a venture for actually getting things done that are in the public interest."
And the issues outlined in this report are just the tip of the iceberg. There are many other areas, where elected officials can collaborate to identify potential solutions.
"By daring to venture across the political divide and find compromise on areas of public concern, leaders can get important work done for the American people, and that work itself will forge a pathway out of the nation's dangerous, counterproductive and toxic polarization," said Faye Park, president of U.S. PIRG.