100+ democracy reform groups push Congress to overturn Citizens United
https://twitter.com/saramswann?lang=en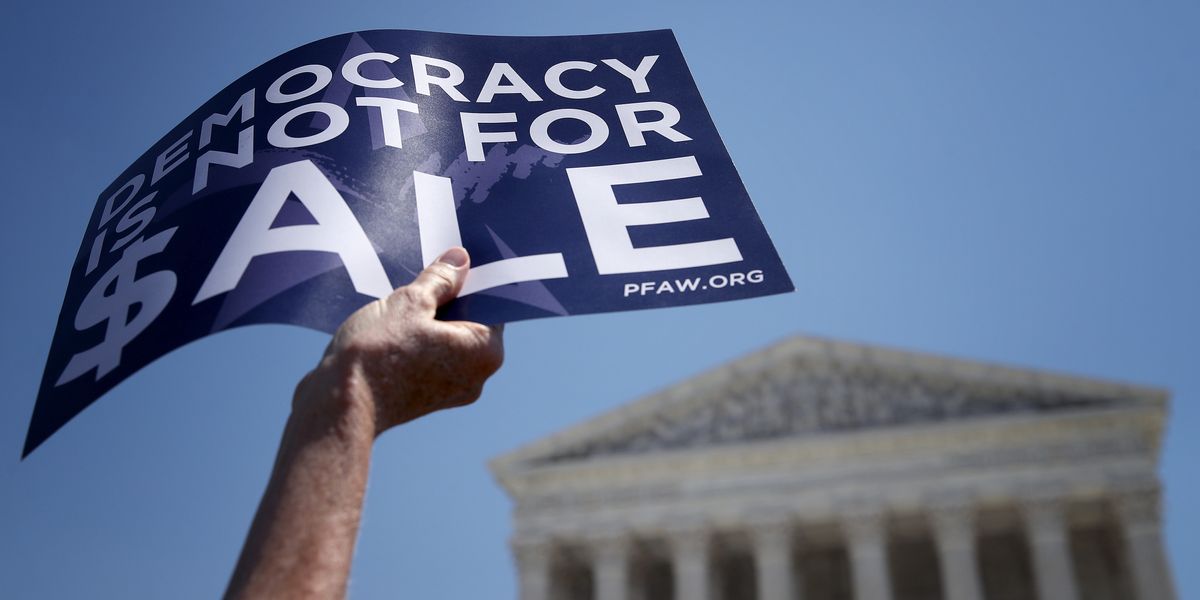 Win McNamee/Getty Images
More than 100 democracy reform organizations are making another attempt at convincing Congress to take action to limit the influence of big money in politics.
A letter signed by 123 organizations was sent to members of the House of Representatives on Thursday, urging them to cosponsor a resolution proposing a constitutional amendment to limit how much can be raised and spent to influence elections. Some of the organizations include American Promise, Common Cause, End Citizens United Action Fund, the NAACP, Public Citizen, U.S. PIRG and Wolf-PAC.
If successful, this amendment would effectively undo the Supreme Court's 2010 ruling in Citizens United v. Federal Election Commission, which uncapped campaign finance limits.
Currently, 139 House members — all Democrats and one lone Republican, Rep. John Katko of New York — have backed the amendment proposal. But the resolution has remained in committee since it was introduced in January.
---
Senate Democrats introduced their version of the resolution at the end of July. So far, no Republicans have cosponsored it.
Since the Citizens United ruling this amendment has been introduced every year in the House and Senate. It's only received a vote in the Senate once, five years ago, when the 54 votes from Democrats were 13 shy of the supermajority required to guarantee success.
Sign up for The Fulcrum newsletter
"The U.S. Supreme Court's decision in Citizens United is one of several cases that opened the doors to vastly more special interest money in elections. If the wealthy individuals and concentrations of capital can drown out the voices of ordinary Americans in elections, we cease to be a representative democracy," the letter reads.
The letter also coincides with a national call-in day in which constituents are encouraged to call their representatives and ask them to support the resolution.
Despite slow progress on the federal level, 20 states have passed legislation calling on Congress to amend the Constitution and fix the campaign finance system. If two-thirds of Congress approves of the amendment, three-fourths of the states would be needed to ratify it.
Another pathway would be for two-thirds of the states to call for a constitutional convention, as explained in Article V of the Constitution.