Laws limit military role in quelling election unrest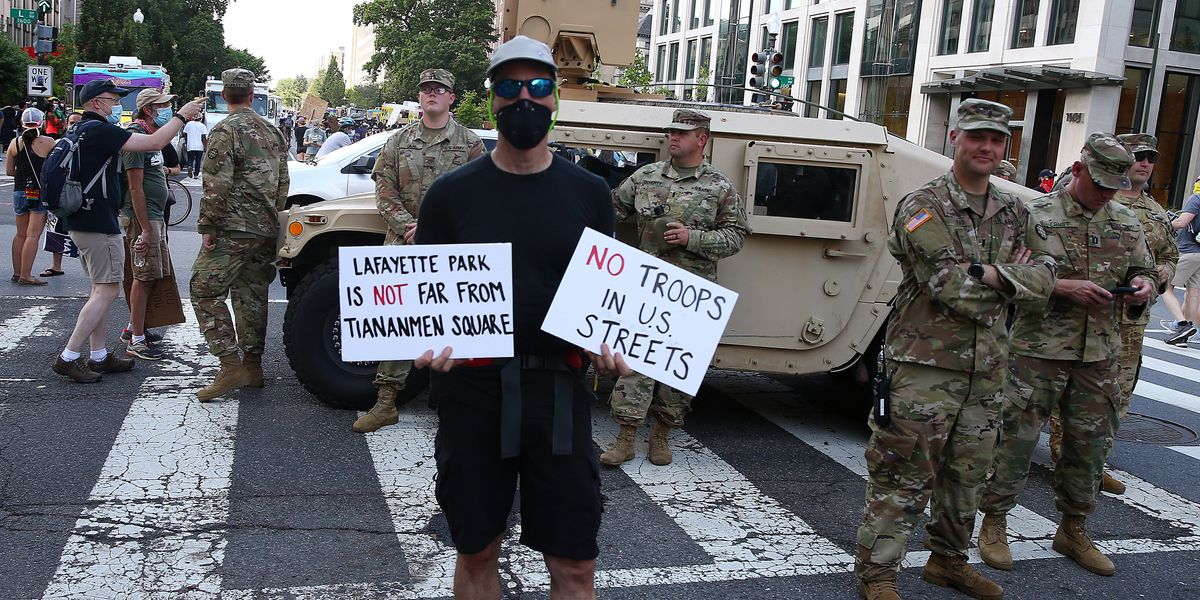 Tasos Katopodis/Getty Images
As a momentous election draws closer, government leaders and law enforcement agencies are preparing for a contested election and ensuing civil unrest. The FBI and Department of Justice are getting ready for election-related violence. And National Guard leaders have assembled rapid-response forces in two states to deal with potential disruptions.

Joint Chiefs of Staff Chairman Gen. Mark Milley has been unequivocal that the military should play "no role" in a U.S. election. "Zero," he said. In fact, it is a federal crime to deploy troops to polling places. But what if there are protests, including when voters have already cast their ballots but the final results remain uncertain?
To be clear, if there is any election unrest, the federal government should not be the one handling it. Elections are run at the local and state levels, so those law enforcement agencies should respond. Yet there's concern the president and his allies may try to interfere with election outcomes by deploying — or threatening to deploy — military forces and turn American streets into "battle spaces."
---
Let's step back to Lafayette Square to add some context. On June 1, National Guard troops were used to clear civil rights protesters from the square for a presidential photo-op. The Trump administration asked states to send National Guard troops into D.C. to crack down on these protests. Over 98 percent of the 3,800 National Guardsmen deployed came from states whose Republican governors answered Trump's call. This "red-state army" of out-of-state National Guard troops was operating under a "hybrid status," which means they're on federally funded missions while under state governors' command. Because National Guardsmen in hybrid status remain under state control, they are exempt from posse comitatus, the principle that the U.S. military cannot perform domestic law enforcement functions unless expressly authorized by law. But when National Guardsmen also report to a federal chain of command, as Defense Secretary Mark Esper admitted they did in D.C., these troops are subject to posse comitatus — unless the president properly invokes some other authority, such as the Insurrection Act. Yet, by Attorney General William Barr's own account, National Guard troops' mission in DC included quintessential law enforcement duties, including "detention" and "search."
Sign up for The Fulcrum newsletter
President Trump has said this could happen again, promising that post-election protests would be "put ... down very quickly." It would be improper to use the National Guard or military (or other federal law enforcement) to patrol the polls or retaliate against protesters. So what happens if the president or his allies try anyway?
We can learn from what happened in Lafayette Square and beyond. Then, the troops withdrew from Washington within a few weeks. But the law didn't precipitate their retreat. Public opprobrium did. Political leaders and the public will have to fight back.
There are both legal and political ways that state and local leaders can respond. Concerning the National Guard at polling places, governors and National Guard leaders should commit to upholding laws that apply to the U.S. military. Governors, state attorneys general and mayors should broadcast the message early that it's unlawful for the president to use the military or federal agents to interfere with elections. State and local leaders can also create political pressure on key decision-makers. Just as Milley vociferously denounced the idea that the military should play any role in our election, governors and mayors can denounce improper deployment of federal law enforcement. Finally, states and cities can call on courts to intervene.
Meanwhile, Sen. Tom Udall and Rep. Jim McGovern are working on legislation to close the statutory loophole Barr exploited to evade laws to use the military to police Americans.
One of the lessons of Lafayette Square is that public outrage and protests may be a critical check on the use of the force against protesters. If, as President Trump has threatened, the military is unlawfully deployed against U.S. citizens exercising free speech, Americans must stand with protesters to preserve the rights for all.
Soren Dayton is a policy advocate and Christine Kwon is a counsel at Protect Democracy. Read more from The Fulcrum's Election Dissection blog or see our full list of contributors.