As Ukraine takes center stage in State of the Union, democracy reformers look at issues at home
https://twitter.com/davidmeyers?lang=en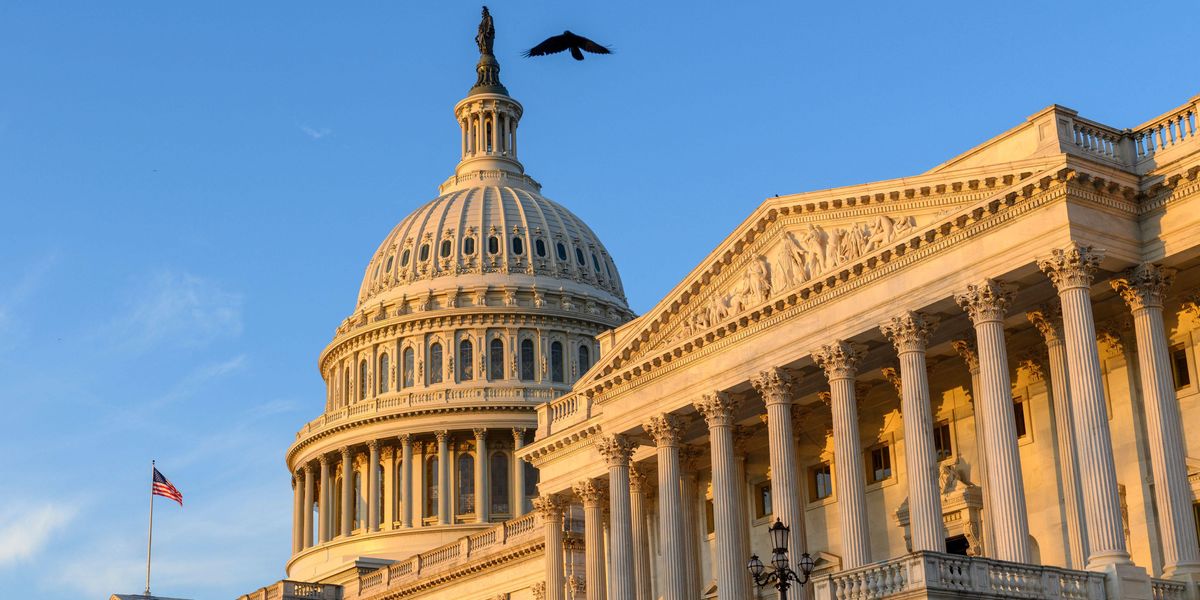 Mandel Ngan/AFP via Getty Images
When President Biden delivers his State of the Union address Tuesday night, he will undoubtedly speak at length about the crisis in Ukraine. Democracy reform advocates hope that subject will be a jumping-off point for a call to fix the American political system.

The Fulcrum asked leaders of some of the most influential organizations focused on improving democracy and ending polarization about what they want to hear from Biden. While they collectively touched on a number of issues, a few common themes emerged: protecting democracy from authoritarianism, finding bipartisan solutions and ending hyperpolarization.
---
Multiple people also called on Biden to lend his support to updating the Electoral Count Act, the law governing the role of the vice president and Congress in ratifying presidential elections. A bipartisan group of lawmakers has been working on an update to the law that would head off the kind of machinations employed by some supporters of Donald Trump following his 2020 loss.
Another recurring concept involved optimism in the American political system, either in terms of highlighting the positives or focusing on rebuilding trust.
But the most common theme connected Vladimir Putin's attack on Ukraine to domestic concerns about democracy's future, as well as hope for breaking the partisan gridlock that has come to define much of the U.S. political system.
Sign up for The Fulcrum newsletter
Following is a collection of responses from reform leaders.
Sarah Bonk, founder, Business for America:
"Our business members and partners agree that a competitive economy functions best in a representative democracy backed by the rule of law and adherence to norms. The assault on democracy in Ukraine is a stark reminder that we must also protect our democratic institutions here at home. We would like to see the White House build on efforts taken last December during the Summit for Democracy and engage business in championing a healthy democracy. While it is often difficult for Congress to find common ground, the business community is eager to help build bipartisan consensus on commonsense reforms such as the Electoral Count Act."
Kristin Hansen, executive director, Civic Health Project:
"The American experiment depends on all Americans coming together in good faith to work through our differences, because the best solutions typically lie in identifying and reconciling competing perspectives. Moreover, our political leaders must lead the way, exemplifying a spirit of bridge-building and demonstrating respect for one another despite holding substantive, even fervent disagreement on policy issues. Even as we grapple with our political, racial, geographic, and economic differences, let us remember that we are all Americans and embrace an ethos that rejects toxic division and extends goodwill towards one another."
Mike Murphy, director, FixUS:

"While the President will rightly focus on the imminent danger posed to democracy around the globe as a result of the Russian invasion, we hope he will also use his address to discuss the poor state of our democracy here at home. We hope the President will convey both the necessity of confronting the threat posed by our hyperpolarized political culture, and offer specific ways to improve our governing institutions so as to restore public trust and confidence in our political system."
Nick Penniman, CEO, Issue One:

"We stand at a crucial moment in history. As the world continues to witness Vladimir Putin's attack against the people of Ukraine, it's time we have an honest reckoning with the peril of democracy abroad and here at home. President Biden should use his first State of the Union address to promote and unequivocally call on Congress to pass much-needed reforms that will protect our elections from anti-democratic actors plotting to subvert the will of the people.
Democracy cannot be taken for granted, even our own. It must be earned. We see authoritarian impulses in our own backyard, challenging our resolve. The president needs to use his platform to call on all Americans and leaders from both sides of the aisle to work together and build a democracy that will continue to be the envy of the world."
Daniella Ballou-Aares, CEO, Leadership Now Project:
"Russia's invasion of Ukraine is a sobering reminder of how global democracies and economies are only as strong as our collective vigilance. Only with decisive commitment by every sector, including the business community, can we weather the storms ahead and rebuild faith in our country and its institutions. Leadership Now Project is hopeful that President Biden will stress this and address how now, more than ever, our democracy needs to be protected and renewed."
Layla Zaidane, president and CEO: Millennial Action Project:
"Democracy is on the agenda this year, and it's more important than ever to highlight the people, projects, and leaders who are effectively bridging the partisan divide. We'll be watching the SOTU to see if President Biden will go beyond talking about what's broken, and also showcase the good that is already happening. I hope we hear some positive stories about the tangible momentum being built in order to create a more participatory, representative, and inclusive democracy — doing so could spark some much-needed optimism as our country looks to scale effective countermeasures to toxic polarization."
Andrew Seligsohn, president, Public Agenda:
"I would like to hear President Biden draw a clear distinction between matters of principle, where no compromise is possible—such as full and equal access to the ballot in fair and free elections—and the far more numerous areas of policy where openness to varied approaches and an experimental spirit will serve us well. When the President turns his attention to reducing inflation, he can make clear that no party or faction has a monopoly on good ideas and that the wellbeing of ordinary Americans should be the deciding factor. There will be no avoiding a discussion of the Russian assault against Ukraine, and I hope to hear President Biden speak honestly about what it means to make difficult decisions about when to use American power to confront injustice."
Joshua Graham Lynn, CEO, RepresentUs:
"The yearly State of the Union address is an important feature of our democracy. It's an opportunity for President Biden to send a message that all of us need to unite behind democracy and against rising authoritarianism. Democracy needs champions here and around the world."
Matt Gerner, elections fellow, R Street Institute:
"President Biden is facing the greatest challenge of his presidency. Polling shows declining support for the president, while democracy itself is under attack at home and around the world. Fortunately, democracy does not require us to agree on policies or leaders; it only requires us to agree on democracy itself.
In his State of the Union address, President Biden should take the opportunity to defend democracy by supporting the bipartisan work underway to reform the Electoral Count Act. He must lay out a plan that brings along all Americans and avoid language that divides, even toward those who unfoundedly call his election illegitimate. The President of the United States is the Leader of the Free World. Now is the time for President Biden to prove himself worthy of that title."
Christina Harvey, executive director, Stand Up America:
"When President Biden addresses the nation tonight, he will no doubt spotlight the courage and determination of the Ukrainian people as they defend their democracy from an autocratic madman. The crisis in Eastern Europe serves as a stark reminder that democracy is under threat across the globe, including within our own borders.
A year after our own aspiring autocrat, President Trump, and his allies attempted to overturn our elections, Congress has failed to pass legislation to strengthen our democracy and prevent future abuses of presidential power. Among other important priorities, President Biden should use his soapbox tonight to rally Congress behind the Protecting Our Democracy Act and pro-democracy reforms to restore our constitutional checks and balances and ensure that no future president, regardless of party, is able to abuse the power of their office or threaten our elections."
Unite America:
"As the President prepares to address Congress, Texas kicks off the start of a seriously problematic primary season around the country. Consider that only 10% of voters effectively elected 83% of Congress in 2020, and all predictions suggest that this 'primary problem' will get worse this year, further disenfranchising voters, distorting representation and fueling partisan division. One of the most impactful reforms for our democracy that President Biden and other elected leaders could evangelize is replacing partisan primaries with a single, nonpartisan primary, like Alaska recently adopted. Partisan primaries are one big contributor to the current dysfunction in Congress."