Trump explains why mail voting merits a lawsuit in Nevada but praise in Florida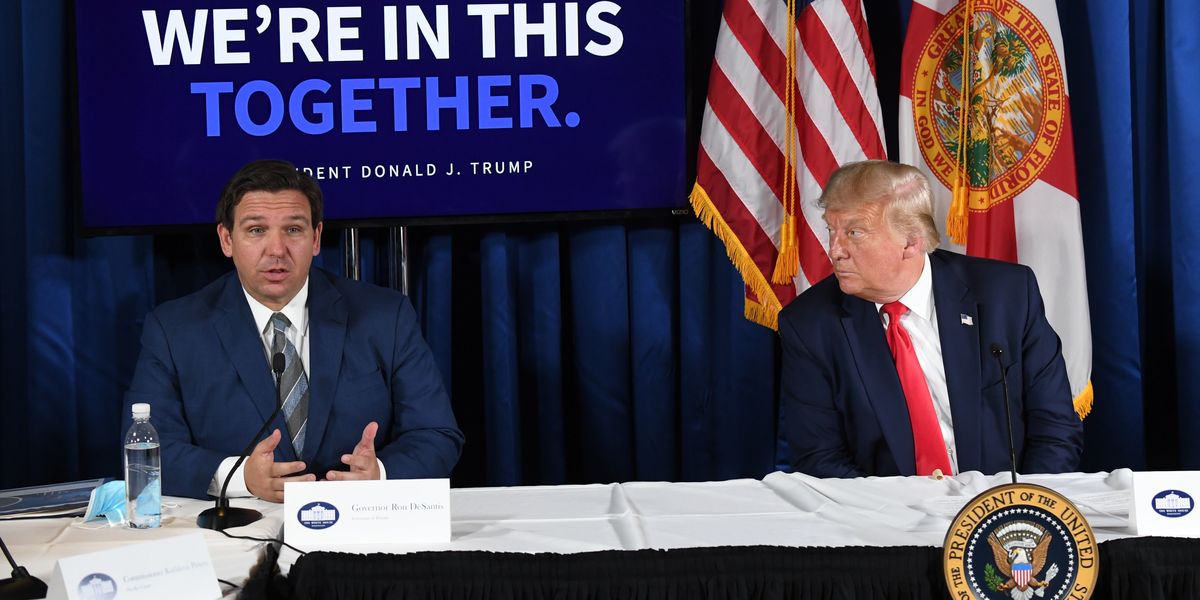 Saul Loeb/Getty Images
The Trump campaign has put its lawyers where the candidate's mouth is — although, all of a sudden, not where it is all the time.

President Trump's re-election team sued late Tuesday to block the delivery of a mail-in ballot to every voter in potential battleground Nevada this fall. The lawsuit was filed just hours after Trump created one of the most whiplash-inducing moments of the campaign. After making baseless accusations dozens of times that easy voting through the mail guarantees a rigged election, he encouraged every voter in Florida — but only Florida, the biggest purple state — to find a stamp and vote from home.
---
In a tweet Wednesday, Trump asserted the situations in the two states were fundamentally different — both logistically, which is highly questionable, and, he conceded, politically:

"Nevada has ZERO infrastructure for Mail-In Voting," he said, disregarding that the state's primary in June was conducted almost entirely by mail. "It will be a corrupt disaster if not ended by the Courts. It will take months, or years, to figure out. Florida has built a great infrastructure, over years, with two great Republican Governors. Florida, send in your Ballots!"
Voting by mail looks guaranteed to surge this fall because of the intensifying coronavirus pandemic, even in states that have not already made that process easier. For months, Trump has claimed that expanded remote voting will make it easy for fraudsters to steal his second term, an unprecedented presidential rattling of the democratic process.
Sign up for The Fulcrum newsletter
There is essentially no evidence to support his fear, but polling has shown many more Republicans believe the president than Democrats — a situation that has many GOP operatives worried that Trump's own sowing of doubt could assure his defeat.
The federal lawsuit, in which Trump was joined by the Republican National Committee and the Nevada GOP, says Nevada's new procedures for the fall election will make "voter fraud and other ineligible voting inevitable."
The plaintiffs claimed "a vital interest in protecting the ability of Republican voters to cast, and Republican candidates to receive, effective votes in Nevada elections and elsewhere," And, their suit said, "Major or hasty changes confuse voters, undermine confidence in the electoral process and create incentive to remain away from the polls."
Trump first threatened to sue on Monday, just before Gov. Steve Sisolak signed the measure, which his fellow Democrats in control of the Legislature cleared over the weekend. In addition to mandating an absentee ballot be delivered to all 1.6 million active registered voters, the law decrees that ballots postmarked by Nov. 3 will be counted if they're delayed in the mail as long as a week, and envelopes with unclear postmarks will be tabulated if they arrive three days late. Until now, ballots had to be in hand by Election Day, the rule in about two-thirds of the states.
The law also eases restrictions to allow party operatives to pick up and deliver the ballots of others — a practice, in place in about a dozen states, that Republicans label as "ballot harvesting" and say is ripe for abuse.
The suit derided those provisions as "head-scratching" because they were enacted after the June primary.
The highest-ranking Republican in Nevada, Secretary of State Barbara Cegavske, was the one who decided to proactively mail out ballots for that primary, a first in the state. And she told lawmakers in Carson City that she found no evidence of fraud. But she opposed the new law because of its ballot collection provision.
Nevada, with six electoral votes, Minnesota (10) and New Hampshire (4) are the states won by Hillary Clinton in 2016 that the Trump campaign has planned to contest.
Complicating matters has been Trump's effort to distinguish between the mail voting he disdains and absentee voting, which he says is fine by (and used by) him. The two terms are widely viewed as synonymous. In Florida, like most states, for example, no excuse is required to request an absentee ballot — and about one-third of all votes in recent elections have been mailed in using those forms.
"Whether you call it Vote by Mail or Absentee Voting, in Florida the election system is Safe and Secure, Tried and True," Trump tweeted Tuesday. "Florida's Voting system has been cleaned up (we defeated Democrats attempts at change), so in Florida I encourage all to request a Ballot & Vote by Mail!"
The president was perhaps referring to a recent settlement in which Republican Gov. Ron DeSantis ceded little ground to plaintiffs seeking easier paths to voting.
Recent polling suggests that Trump winning re-election without Florida's 29 electoral votes is increasingly implausible. The state's elderly population, which tilts decidedly to the GOP, has been especially reliant on absentee voting.
Eight other jurisdictions also plan to deliver mail ballots to all registered voters this fall. Hawaii, Colorado, Oregon, Utah and Washington planned to do so before the pandemic. Vermont, California and the District of Columbia decided to do so this summer.
Last week, he even suggested delaying the election rather than relying on so much more mail voting. The president does not have the power to do that, and the idea was immediately shot down by the Republcian leaders in Congress, which does have the power.