Coronavirus impact continues to ripple through state elections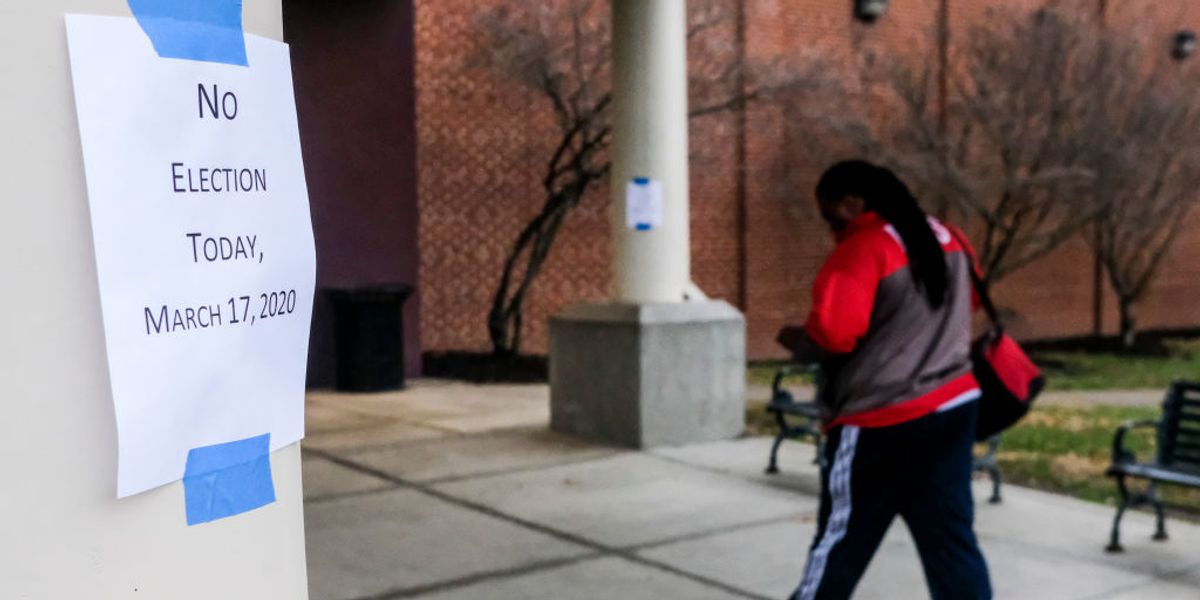 Matthew Hatcher/Getty Images
The coronavirus pandemic continues to ripple through the nation's electoral system.

While there's a two-week break in the presidential contest, judges and state officials have made another series of decisions in recent days designed to make voting easier and safer while the nation is largely locked down.
Registration for the next major Democratic primary, in Wisconsin, has been extended. The next two congressional special elections will be conducted by mail, and it's likely that so will much of the Ohio primary postponed last week at the final hour. The number of states with postponed presidential primaries moved toward nine. Runoffs in four states have also been delayed, while petition drives to get referendums on the ballot in two states were put on hold.
---
The details of these developments:
Wisconsin
A federal judge late Friday extended the online registration deadline by a dozen days, to March 30, for people wanting to choose between former Vice President Joe Biden and Sen. Bernie Sanders on April 7.
Judge William Conley of federal District Court in Madison accepted the arguments in a lawsuit filed by the Democratic National Committee and the Wisconsin Democratic Party, who said the voting rights of those who had yet to register could be violated because state health officials were advising them to stay in their homes.
Sign up for The Fulcrum newsletter
"The court cannot help but take judicial notice of the excruciating dilemma that will soon be faced by eligible voters who did not register by the March 18 deadline: either venture into public spaces, contrary to public directives and health guidelines or stay at home and lose the opportunity to vote," he wrote.
Conley denied, for now, several other requests by the Democrats, including that he temporarily suspend photo ID and proof of residency requirements for voter registration and extend the time for mailed ballots to arrive at election offices. But the judge said he would consider taking such actions if more convincing evidence is presented
Ohio
Secretary of State Frank LaRose is proposing the use of absentee ballots to complete the presidential primary, delayed hours before polls were to open March 17 as anxiety intensified about the spreading coronavirus.
LaRose, a Republican, said Saturday that an absentee application could be sent quickly to every registered Ohioan who did not vote early, and that anyone who asks would get a postage-paid ballot with a submission deadline of June 2. He proposed allowing in-person voting that day, but only if the state health commissioner decreed by April 24 that it would be safe.
The plan, which has the support of GOP Gov. Mike DeWine, will need the approval of the Republican-majority General Assembly. But how the state untangles the mess caused by the election delay is likely to be determined by the courts, where numerous lawsuits have been filed.
Pennsylvania
Democratic Gov. Tom Wolfe and the GOP leaders of the General Assembly worked out an agreement over the weekend to delay the presidential primary from April 28 to June 2. At stake are 186 convention delegates. The deal, which will require legislative approval, would allow county election officials to consolidate polling places and to begin processing absentee ballots earlier.
The Rhode Island election board has recommended that Democratic Gov. Gina Raimondo declare the same five-week postponement, and she seems likely to do so.
Connecticut, Georgia, Indiana, Kentucky, Louisiana, Maryland and Ohio are the other states that have already delayed their presidential contests.
Congress
Republican Gov. Larry Hogan of Maryland and Democratic Gov. Gavin Newsom of California have both decreed that the next two special congressional elections will be conducted entirely by mail. One House contest is April 28 in Baltimore for the seat of the late Democrat Elijah Cummings, the other is May 12 in northern Los Angeles County for the seat vacated when Democrat Katie Hill resigned.
Congressional runoffs have also been delayed in four states where one round of primaries has been held but a second round is required if no candidate got a majority the first time: Alabama, Texas, Mississippi and North Carolina.
In North Carolina, where the delay pushed voting from May 12 to June 23, voters will choose a Republican candidate to replace Mark Meadows, the GOP House member tapped by President Trump as chief of staff. The Alabama GOP Senate runoff was delayed from March 31 to July 14. It pits Jeff Sessions, hoping to be a senator again after a troubled run as attorney general, against Auburn football coach Tommy Tuberville. The winner will face Democratic Sen. Doug Jones in the fall.
Referendums
In the face of an April 30 deadline, the liberal group Reclaim Idaho gave up on efforts to gather signatures for a ballot measure that would have increased taxes on corporations and the rich to increase education spending. The group's request to be permitted to collect electronic signatures was rejected by GOP Gov. Brad Little.
The deadline is Sept. 4 in Oklahoma, and leaders of Oklahomans for Sentencing Reform said they may try to regenerate their campaign in the summer. But for now, they said, "the health and safety of our signature collectors and the public at large is our number one priority" and so no one will be circulating petitions for the indefinite future.