Poll worker shortage has Maryland officials seeking to cut voting sites
https://twitter.com/saramswann?lang=en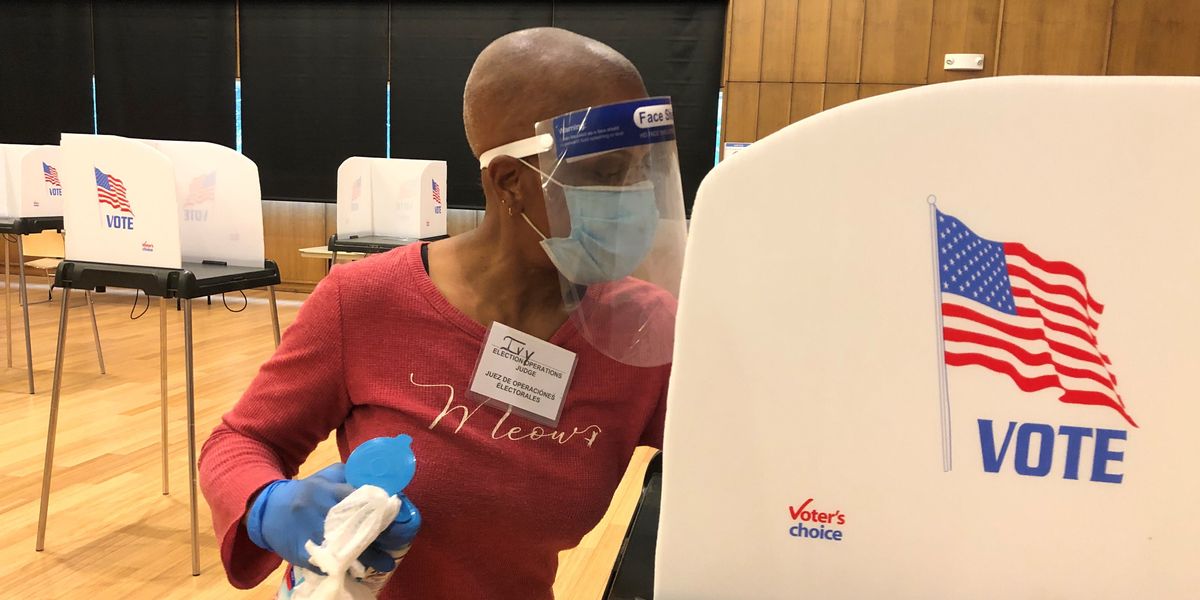 Robb Hill/Getty Images
Coronavirus concerns and a shortage of poll workers has the Maryland Board of Elections seeking a drastic reduction in the number of places to vote in November.

Gov. Larry Hogan has not yet said whether he will grant the board's request, delivered Friday, for permission to open just 282 voting centers this fall — or one-seventh the usual 1,600, in the reliably blue state. Last month, the Republican governor had directed officials to keep every in-person polling location open on Election Day, while also mailing absentee ballot applications to every voter.
What Hogan termed his plan for a "normal" election immediately raised concerns from Democrats, local election officials and good-government groups who said the arrangements would be too expensive and difficult to execute.
---
The 282 voting centers would allow Marylanders to cast their ballot early or on Election Day at any location in their county, rather than at a specific precinct based on their residential address. These voting centers would be located at every public high school in the state, along with other locations.
After an array of problems with the state's June primary, which was conducted mostly by mail, Hogan decided to go with a more traditional election in the fall. But local election administrators are struggling to recruit enough people to work the polls during the eight-day early voting period and on Election Day.
Sign up for The Fulcrum newsletter
Local officials say they are more than 14,000 workers short of what's required under Hogan's plan. Two dozen facilities that usually serve as voting sites have also cited the public health crisis in refusing to host voting this fall.
While Hogan has not yet weighed in on this latest proposal, the state board of elections hopes he will see it as a good compromise that will provide enough in-person polling locations for voters while not overwhelming local election administrators.
In a letter to the elections board last week, Hogan reprimanded local officials who had suggested consolidating polling locations due to staff shortages, saying these closures would amount to statewide voter suppression. He also cited the Voting Rights Act and quoted from former President Barack Obama's eulogy for Rep. John Lewis.
The governor ordered the state board of elections to list the number of polling locations in each county that are able to be operational and outline how it plans to conduct the November election.