Bloomberg joins other Democrats with broad plans for democracy reform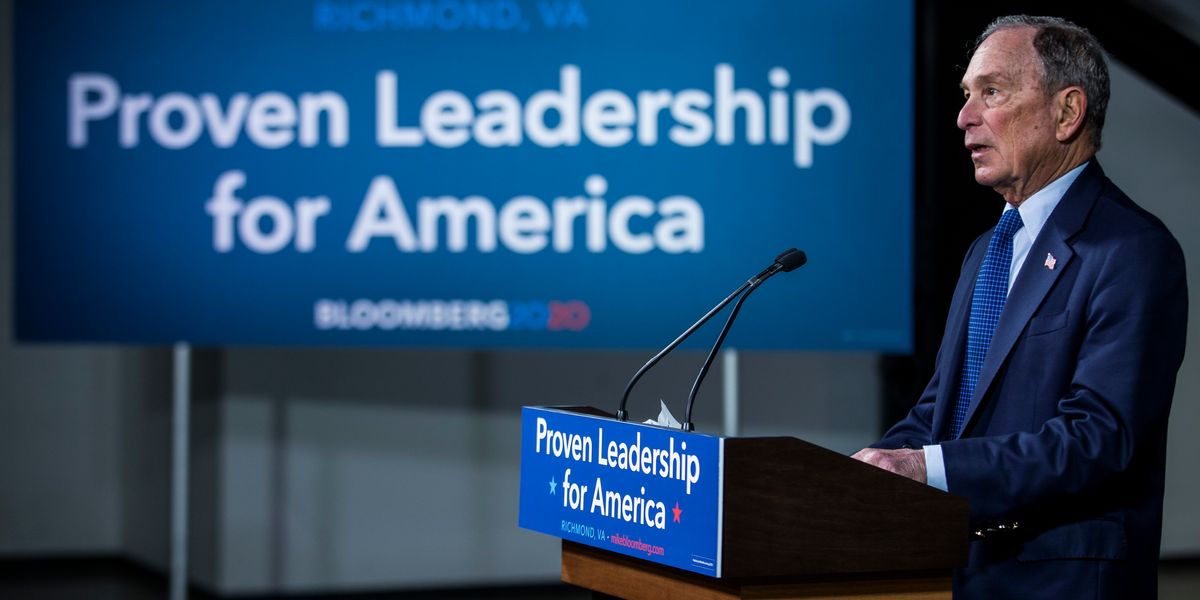 Zach Gibson/Getty Images
Citizens would be automatically registered to vote, or they could register online or on Election Day, under a comprehensive voting rights proposal unveiled Friday by Mike Bloomberg.

He is the last of the prominent Democratic candidates for president to detail an agenda for making the democratic process work better. The plan was unveiled as Bloomberg took his campaign to Georgia for an appearance with Stacey Abrams, one of the most prominent civil rights advocates in the country.
"The right to vote is the fundamental right that protects all others, but in states around the country it is under attack," Bloomberg said in a statement released by his campaign.
---
Among several other elements, the plan by the billionaire media company owner and former New York City mayor would:

Block purging of voter registration rolls on the basis of inactivity, incomplete or improper cross-checks, or returned mail notices.
Require states to form independent redistricting commissions to eliminate partisan gerrymandering.
Provide a regular stream of federal funding for upgrading and maintaining election infrastructure.
Restore voting rights to felons after they are set free regardless of whether they have been able to pay all their fines and fees.
The package embraces all of the major voting proposals included in HR 1, the election and ethics overhaul the Democratic-controlled House passed last year. The Republican-controlled Senate has no interest in the legislation. All of the other Democratic presidential candidates have endorsed the voting rights provisions in that bill.
Bloomberg was scheduled to appear with Abrams at an Atlanta summit held Friday by her political action and voting rights group Fair Fight 2020, which she created after narrowly losing her 2018 bid to become the nation's first black female governor. Bloomberg last year gave $5 million to the group, which amounts to almost a quarter of its fundraising to date.
Sign up for The Fulcrum newsletter
Abrams alleges that voting irregularities in 2018 included rejection of thousands of would-be voters at the polls because of minor discrepancies between their registration forms and other records.
The Bloomberg campaign's announcement touted that the "centerpiece of Mike's plan is a series of initiatives designed to tackle racial disparity in voting rights."
Eight percent of black adults are blocked from voting, it said, because of past convictions, which is four times the rate for other Americans. The announcement also noted that 36 states require voters to show some sort of ID before casting their ballots, which disproportionately prevents members of minority groups from getting to vote.
To deal with discrimination in voting, Bloomberg also proposed restoring the Voting Rights Act requirement of preapproval for any changes in areas with a history of discrimination and creating a nonpartisan commission to set federal standards for voting in federal elections to eliminate disparities across states, including voter ID requirements.
There will be no in-person explanation of his proposals at the next presidential debate, in Des Moines on Tuesday, because Bloomberg's decision to bankroll his own campaign rather than raise small-dollar donations from others has resulted in his not being invited. He is not contesting Iowa or the other early caucus and primary states but is instead investing heavily on winning delegates after that. Georgia's primary is March 24.