New Hampshire's top court strikes down complicated voter registration law
https://twitter.com/saramswann?lang=en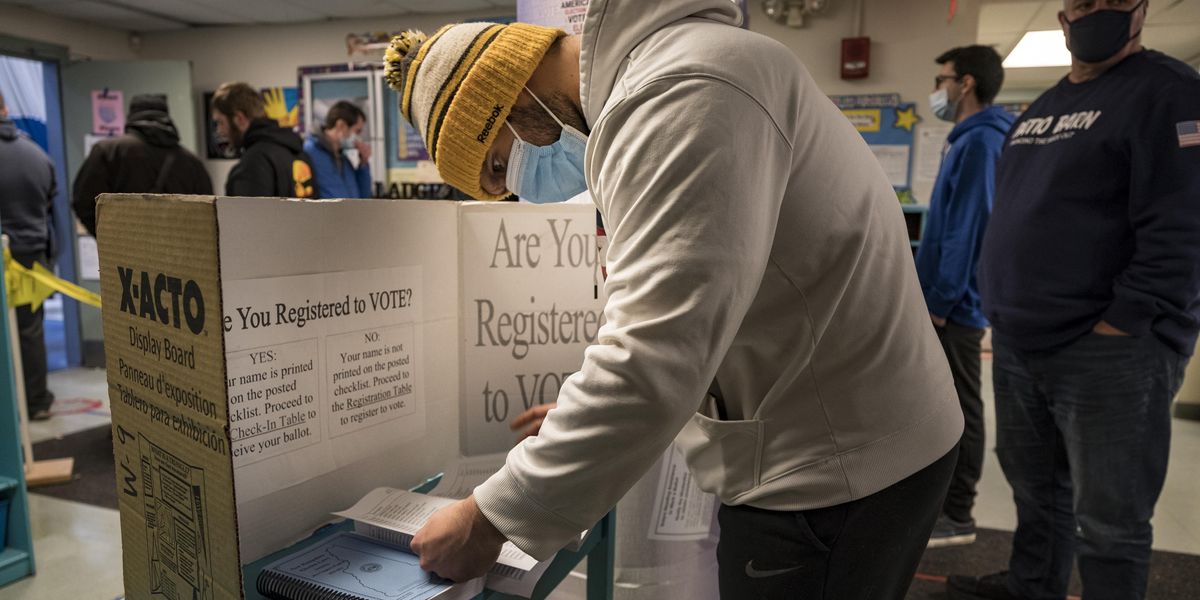 Jodi Hilton/Getty Images
The New Hampshire Supreme Court last week struck down four-year-old voter registration rules, finding they imposed "unreasonable burdens on the right to vote."

In a unanimous 4-0 decision on Friday, the court concurred with a lower court's ruling that found the law unconstitutional, and therefore must be stricken in its entirety. Critics said the law made the state's voter registration process convoluted and confusing, especially for college students.
This victory for voting rights advocates came on the heels of a U.S. Supreme Court decision that some decried as particularly damaging to minority voters. On Thursday, the high court's conservative majority ruled to uphold two restrictive voting laws in Arizona.
---
The New Hampshire law, which was drafted and passed by Republicans in 2017, created a new process for people who registered to vote within 30 days of an election, or on Election Day itself, without a photo ID. Such people were then required to fill out forms and provide documentation to prove they were New Hampshire residents.
The law allowed those voters to cast a ballot if they did not have the necessary documents immediately available, but if they missed a deadline for submission, the voters could have been subject to wrongful voting penalties, including a fine of up to $5,000 and a misdemeanor charge.
Sign up for The Fulcrum newsletter
The New Hampshire Supreme Court agreed with the Superior Court's 2020 ruling that found this process was difficult to navigate and potentially deterring people from registering to vote, as well as overly burdensome on voters.
The Superior Court also ruled that this law had an "unequal impact" on young people, in particular college students, because they tend to change addresses often and therefore need to update their voter registration information more frequently.
The New Hampshire chapter of the League of Women Voters, which was one of the plaintiffs challenging this law, said the ruling was "a fitting reminder that voting rights are at the heart of our democracy."
"Today's ruling struck down a harmful voter registration law designed to penalize voters and limit who can participate in our elections," the nonprofit organization said in a statement. "While we are pleased with this verdict, we must ensure that further attempts to restrict voting rights in New Hampshire will be curtailed by this ruling. We will continue to be vigilant if more voter suppression bills move forward in committee hearings this fall."
On Friday, Republican Gov. Chris Sununu, who signed this measure into law in 2017, said it was "disappointing that these common sense reforms were not supported by our Supreme Court."
"But we have to respect their decision, and I encourage the Legislature to take the court's opinion into account and continue working to make common sense reforms to ensure the integrity of New Hampshire's elections," he said.