Texas abortion law shaping up as motivating factor in midterm voting
https://twitter.com/saramswann?lang=en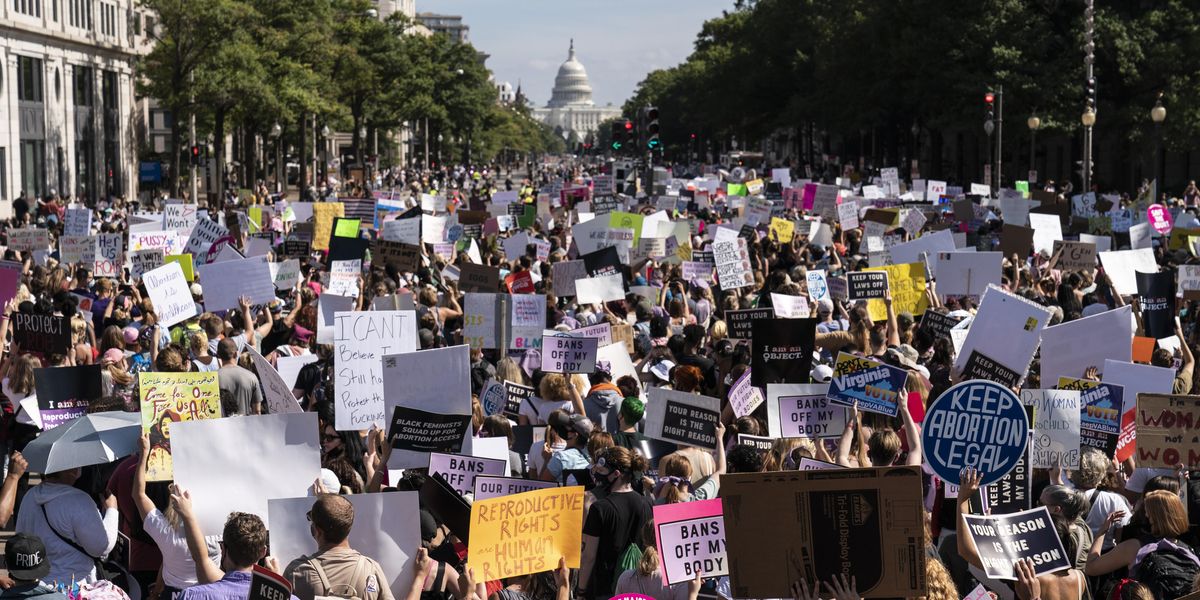 Joshua Roberts/Getty Images
With the midterm elections just over a year away, two issues are top of mind for voters: Covid-19 and abortion, recent polling found.

Texas' new ban on abortions after six weeks of pregnancy has sparked protests in the Lone Star State, as well as nationwide. The new law is also galvanizing some voters, mainly Democrats and women of color, to participate in the 2022 elections, according to a survey released Monday by All In Together, a nonpartisan nonprofit that encourages civic and political engagement among women.
The pandemic is also an issue of high importance for voters, as more than 700,000 Americans have died from Covid-19. While Democrats and independents indicated the coronavirus was the most important issue to them, Republicans rated it as third most important, behind national security and rising prices.
---
Just under three-quarters of all registered voters said they are "almost certain" or "probably" going to vote in next year's elections for Congress, state offices and local positions. Republicans showed slightly more motivation, with 59 percent almost certain of voting, than Democrats (49 percent) or independents (42 percent).
Women (53 percent) were slightly more likely than men (49 percent) to be almost certain about voting next year. A majority of Black women and Asian American or Pacific Islander women said they were likely to participate in the midterms, whereas only 40 percent of Latinas said the same.
Sign up for The Fulcrum newsletter
Additionally, older Americans showed more certainty in voting next year than younger people. More than three-quarters of voters 65 and older and almost two-thirds of voters ages 50-64 said they were almost certain of voting in 2022, compared to two-fifths of voters ages 30-49 and 28 percent of voters under 30.
However, Texas' recent abortion ban could drive more people to the polls next year. While Americans are evenly split on their views of the new law — 46 percent favor it and 47 percent oppose it — nearly three-fifths of voters said Texas' law makes them more interested in voting. (Other polling has found a majority opposes the law with less than 40 percent supporting it.)
The abortion ban is particularly motivating among young women, with 73 percent saying they are more interested in voting next year because of it. Latinas of all ages also indicated more interest in voting (64 percent), as did Asian American and Pacific Islander women (63 percent) and Black women (58 percent).
When it comes to partisan turnout, Democrats are the most motivated by the new restrictions on abortion (68 percent indicating a higher inclination of voting in the midterms). A slight majority of Republicans (52 percent) said they were more interested in voting because of Texas' new law, whereas less than half of independents (48 percent) said the same.
The survey of 1,000 registered voters nationwide was conducted by Lake Research and Emerson College Polling for All In Together from Sept. 22 to 24. The survey oversampled Black women, Latinas, and Asian American and Pacific Islander women, but those oversamples were adjusted to reflect actual population proportions. The margin of error was 3.1 percentage points.