Wisconsin's debacle is an election security wake-up call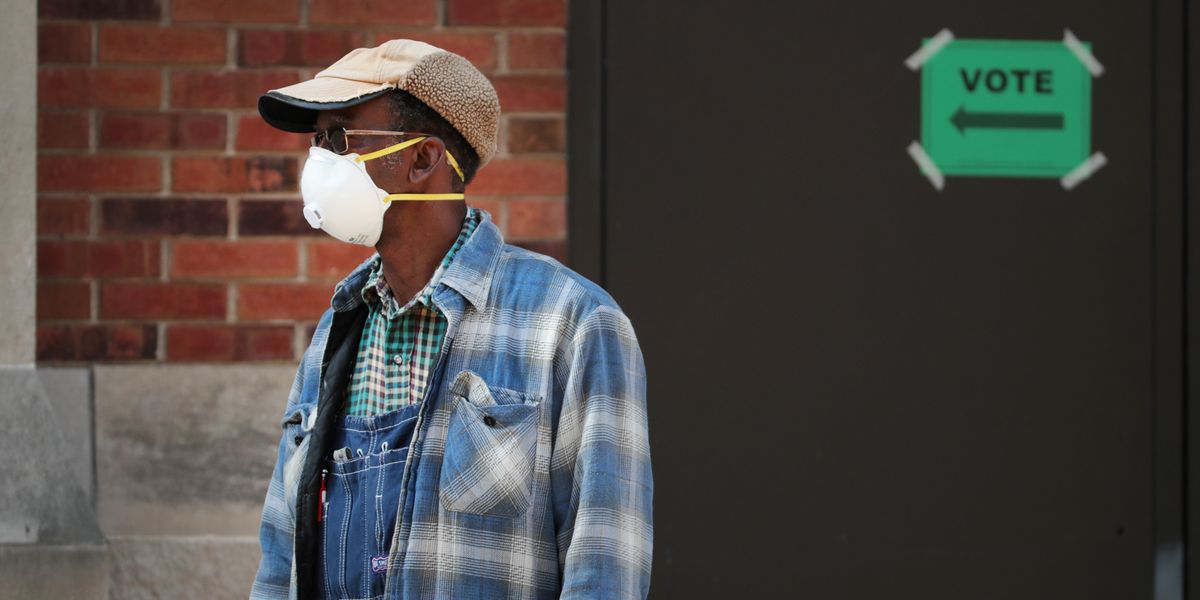 Scott Olson/Getty Images
Levine is an elections integrity fellow at the Alliance for Securing Democracy, which seeks to counter Russian efforts to undermine U.S. and European democratic institutions.
---
Wisconsin's last-minute decision to hold an in-person election this month was a failure from a public health and election security standpoint.

Holding the vote in the midst of the coronavirus outbreak resulted in mass confusion, thousands of voters waiting in hours-long lines, problems adapting to the surge in absentee ballot requests and significant shortages of both polling workers and polling places.
Stubbornly ignoring the practical difficulties presented by the Covid-19 crisis during the rest of this year's primaries or the general election could have grave consequences. Proactive planning by states and localities and clear communication with the public are essential to build resiliency and trust in our election system.
There were nearly innumerable mistakes by both Democratic Gov. Tony Evers and the Republican-majority Legislature in the run-up to Wisconsin's election. Yet one largely overlooked fact in all the coverage was that state and local officials with the most experience running elections lacked the power to revamp or postpone the vote. This could be an issue in the rest of this year's primaries as well. Election officials have the authority both to delay an election and shift polling places in only six states: Florida, Hawaii, Louisiana, Maryland, South Carolina and Virginia.
Sign up for The Fulcrum newsletter
Another issue that many states with upcoming primaries will need to address is preparing for a surge in mail-in voting. Wisconsin officials simply did not have time, resources or staff to process all those requests. At least 900,000 Wisconsinites requested absentee ballots but didn't get them, forcing them to risk voting in person or not vote at all.
While states with primaries this spring and summer have had more time to prepare for such a surge, expanding vote-by-mail capacity is not as easy as it might seem, particularly in places where there has not traditionally been a high percentage of mail voting.
Here are three essential steps to helping ensure elections conducted amidst the coronavirus are free, fair and secure.
Follow professional advice. Wisconsin inexplicably conducted in-person voting April 7 despite a shelter-in-place place order directing Wisconsinites to stay at home from March 25 until April 24. The state had more than 2,000 confirmed cases of coronavirus two days before the primary, but was the only state out of 11 originally scheduled to hold Democratic presidential primaries in April that did not postpone or substantially change the way people could vote.
Ideally, decisions on when and how to conduct elections during this pandemic can be made in consultation with public health experts. At least 16 states and one territory either pushed back their presidential primaries or switched to voting by mail with extended deadlines, citing the challenge of conducting elections during the pandemic.
Plan for voting by mail. There are a number of potential issues — legal, political, administrative and financial — with conducting all-mail elections, particularly in states where there has historically been a relatively low percentage of such absentee voting. And ideally every state that wants to will be able to have in-person voting as part of this November's election.
However, it is important that all states have backup plans in place to conduct their elections entirely by mail if the state of the pandemic this fall makes it too risky for even limited in-person voting. The public's confidence that their vote counts — and is counted correctly — relies on secure election infrastructure and voters shouldn't have to risk their health to cast a vote.
As part of this planning, jurisdictions should consider what training (for processing a high volume of mailed ballots, for example), technology (like high-speed scanners) and materials (additional envelopes and the ballots themselves) would need to be purchased — as well as any outreach that would need to be conducted, particularly to groups of voters who historically have shown a greater inclination to vote in-person. Simulating a vote-by-mal election would also help identify any outstanding security vulnerabilities that need to be mitigated.
Start communicating now. Clear communication is key to instilling confidence in the election process. Sharing election changes with the public from trusted sources well in advance of an election can help prevent the public from relying on inaccurate information.
We are fortunate that many election administrators already know these lessons. But local election officials must work in lockstep with state officials and their federal partners to ensure action is taken now so it has a chance to get done in time.
Most importantly, this means strengthening resiliency plans and clearly communicating how the election will be conducted — to ensure voters don't have to choose between casting a ballot and protecting their health.