Artists, athletes and actors around the world stand with Ukraine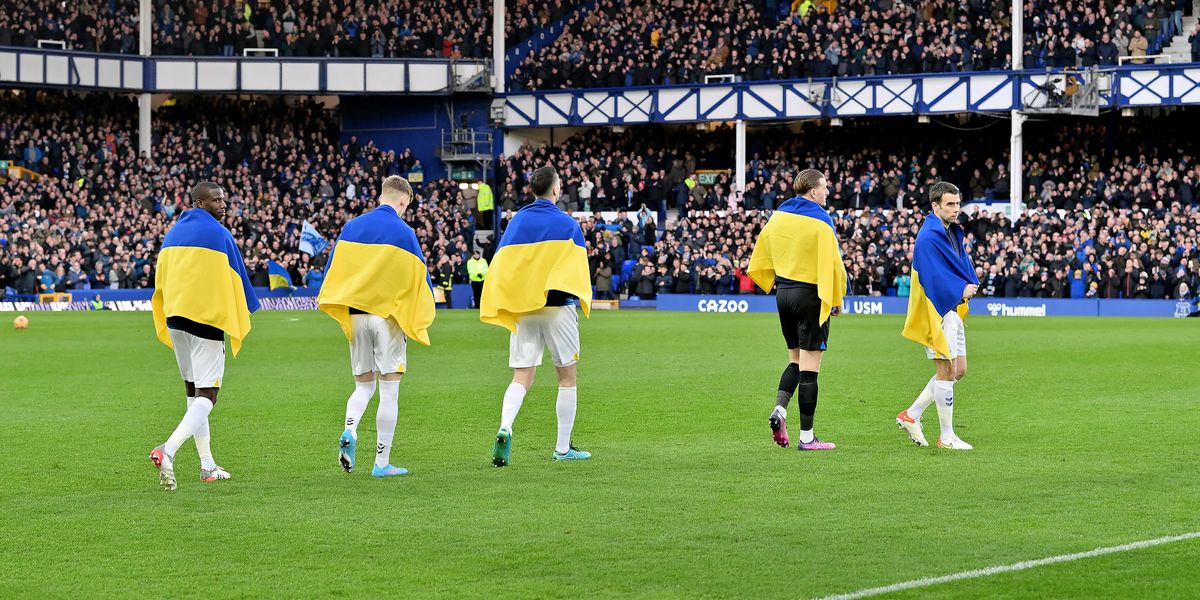 Tony McArdle/Everton FC via Getty Images
The Russian invasion of Ukraine and the response from artists speaks to the power of music, theater, poetry, sports and all of the arts to appeal to the human spirit — a spirit that expresses the joys, sorrows and harmonies of the heart and soul.
At the time of the introduction of new Pop Culture section in the Fulcrum we said:
"In our increasingly complex world of trauma and travail, where we must care about the health of our democracy and strive relentlessly to strengthen our representative republic, we call upon the products and services of our artists and athletes to remind us of our heritages and traditions, our cooperative and competitive selves.
And now more than ever, as democracy is being ruthlessly attacked, artists are using their power to fight an authoritarian attack upon a sovereign nation.
---
In the sports world, athletes have demonstrated solidarity with the Ukrainian people as anti-war messages appeared across stadiums around the globe. In Manchester City players took to the field wearing Ukrainian flags and wore T-shirts in Ukraine's colors with the message "NO WAR" at the start of Saturday's game. The emotion was strong as two Ukrainian players were on the verge of tears as they watched the showing of support. Similar signs of support were shown in soccer events across Europe.
Sign up for The Fulcrum newsletter
This defiance and expression of support is happening from artists in Russia as well. At great risk to their lives, Russian celebrities voiced opposition to President Vladimir Putin's invasion of Ukraine in an anti-war rally in Moscow last week. The power of social media to give voice to Russian dissidents is being witnessed as Russian pop stars, television hosts, musicians and actors are posting black squares to Instagram in protest of the war.
Outside of Russia, many stars of Russian and Ukrainian descent are offering their voice to Ukraine.
Grammy-nominated singer-songwriter Regina Spektor last week posted emotional Instagram post, comparing Putin's tactics to those of the Nazis during World War II.
"Today my heart hurts because no matter how many great works of art and music (Guernica…. Masters Of War… Most of Okudzhava and Vysotsky… Vonnegut… Remarque… all those films in all those languages…) portray the horrors of war, new Masters of War seem to rise up again in all the nations… Sending new children to slaughter each other," wrote the 42-year-old, who was born in Moscow before her family left the former Soviet Union for New York City in 1989. "There were, and still are, real Nazis in the world. But in Ukraine there are just millions of civilians being pulled into a war, and in Russia there are children being sent to fight and die for no reason other than the bottomless and horror filled 'more more more more more more more' of politicians and corporations. And it's terrifying."
The European Broadcasting Union added its support, announcing Friday that Russia has been banned from the the 2022 Eurovision Song Contest. Singer Jamala, winner of the 2016 Eurovision competition on behalf of Ukraine — also voiced support for herembattled country.

"We don't want war! We are for peace!" she wrote. "Please support Ukraine."
The cast and crew of "Saturday Night Live" eschewed the traditional comedic cold open over the weekend, opting instead for a sober performance by the Ukrainian Chorus Dumka of New York. The collection of amateur singers performed a patriotic hymn, "Prayer for Ukraine."
While Instagram posts, and demonstrations of support by athletes, actors and singers might pale in comparison to the sheer might of the Russian military, the impact on Russia's economy and oligarchs should not be underestimated. On Thursday when the Russian attack started, stocks fell 33 percent, the fifth worst crash in modern history.
Pop culture is the core expression of the way people live in all societies. Particularly in democracies it is the voice of the people. That voice is getting louder and louder with each passing day of the invasion. Every one of us, whether a celebrity or not, must add our own voices. We all are a part of the flow of history, a part of the past and a part of the future. We create it, we live it, we are it. Sometimes that flow is slow but sometimes history can be changed overnight. Is this one of those times?
You may ask why The Fulcrum, a place where insiders and outsiders to politics are informed, meet, talk and act to repair our democracy, is focusing so much upon an authoritarian threat in Eastern Europe.
It is because a threat to one nation is a threat to all nations. The lessons we learn as a people will strengthen us. Our history is replete with examples of populist authoritarians attempting to subvert the will of the people and today it is on the rise in our country and around the world, as stated by Tom G Palmer in his essay "The Terrifying Rise of Authoritarian Populism."
We cannot isolate ourselves from the challenges other democracies are facing for geopolitical reasons and for moral reasons. Nelson Mandela said is best:
"For to be free is not merely to cast off one's chains, but to live in a way that respects and enhances the freedom of others."