How a college freshman led the effort to honor titans of democracy reform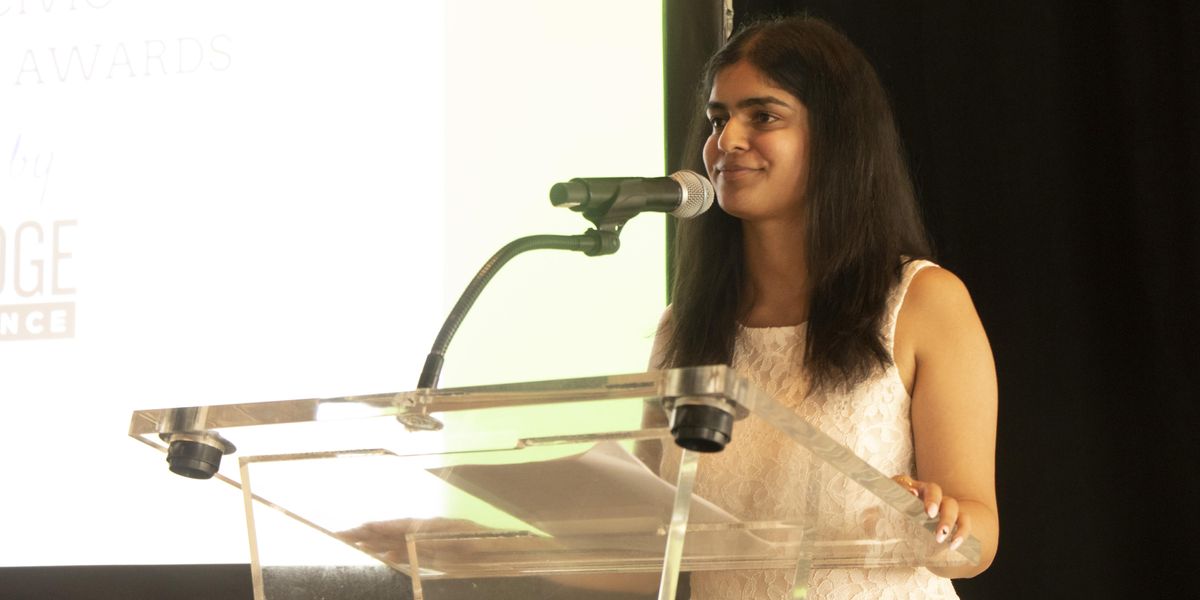 Mady By Us
Garson is legal counsel and chief of staff for the Bridge Alliance, which houses The Fulcrum.

A couple of weeks ago, on June 12, I watched Sachi Bajaj announce VoteAmerica as a winner of the 5th American Civic Collaboration Awards. It was the culmination of six months of hard work by the Bridge Alliance's talented young intern (who was a college freshman when she joined us).

In many ways, Sachi's work to revive the Civvys (which were last awarded in 2020) were worthy of a Civvy. At the heart of the award is the idea that together we can make a greater impact than we could ever make as individuals. That requires learning from each other and setting aside our egos for the greater good.
---
Sachi most certainly did that by:
Following and adapting the template that Caroline Klibanoff of Made By Us created when she ran the Civvys.
Using all of the Bridge Alliance's communications tools to solicit a record-breaking number of nominations.
Bringing the Bridge Alliance team together to winnow the nominees to 17 finalists.
Recruiting leaders from throughout the democracy movement to choose winners among the finalists.
Working with the Made By Us team to present the Civvys at the kickoff event for the first ever Civic Season in Atlanta.
Fortunately for the actual nominees, the Civvys can't win a Civvy. Instead, we were treated to the inspiring stories of VoteAmerica (National category), Voters First Virginia (Local) and Kentucky YMCA Youth Association (Youth), as well as a touching message from Ellen Perry – the wife of Lifetime Achievement Award winner Rob Stein.
At a time when our nation's future feels less certain than it has in decades, each of these organizations shows us that there is a growing segment of the American public ready and able to take our power back.
Sign up for The Fulcrum newsletter
And the key word is "our," as in all of us as Americans.
VoteAmerica is making it easier for every American to be an agent of change by incorporating civic engagement into our everyday lives. Whenever someone checks their credit score, files their taxes, changes their home address, or registers for classes, vital information about voter registration, vote-by-mail, early voting, voter ID, and more can be built directly into the platform's user experience. More than 4 million Americans used VoteAmerica's services in 2020 alone.
Voters First Virginia proved that we can make popular voting reforms happen, including in contested states like Virginia. They successfully led bipartisan coalitions that 1) instituted a citizen-led redistricting commission, 2) created a ranked-choice voting pilot, 3) made absentee voting improvements and 4) increased access to party nominating processes. The VFV model is now being used in Colorado and Arizona.
The Kentucky YMCA Youth Association is bringing together young people from throughout the Bluegrass State. The association has impacted tens of thousands of young men and women from nearly all of Kentucky's 120 counties, and has sent a message by welcoming people of all backgrounds and experiences to its programs. Given the national footprint of the YMCA community, it isn't hard to envision the team's approach catching on across the country.
Finally, Rob Stein's death was mourned throughout our movement. He helped set the tone for the democracy movement, and his positive impact will be felt for generations to come. When we received news of his passing, we knew we had to honor him, which we did with the first ever Lifetime Achievement Award.
As we honor and celebrate these incredible individuals and organizations, it's important to remember why we're doing this, and why the Bridge Alliance is a driving force behind two honors programs (the Civvys and the Democracy Awards). These award ceremonies provide roadmaps for success. By broadcasting the winners to a national audience, we are hoping to inspire people across the country to think big and understand that, together, we can help our beloved America better reflect the values and aspirations of we the people.
And so, as I watched Sachi leave the podium to catch a flight back home, I remembered that what we were doing that day wasn't a vanity project. All of our work at the Bridge Alliance is driven by the idea that Americans can and will take back their power, and that young leaders like Sachi will be at the forefront of that effort in the years and decades ahead. The Civvys provide a piece of the map that they will use to get us there.