Then and now: What people say about Jan. 6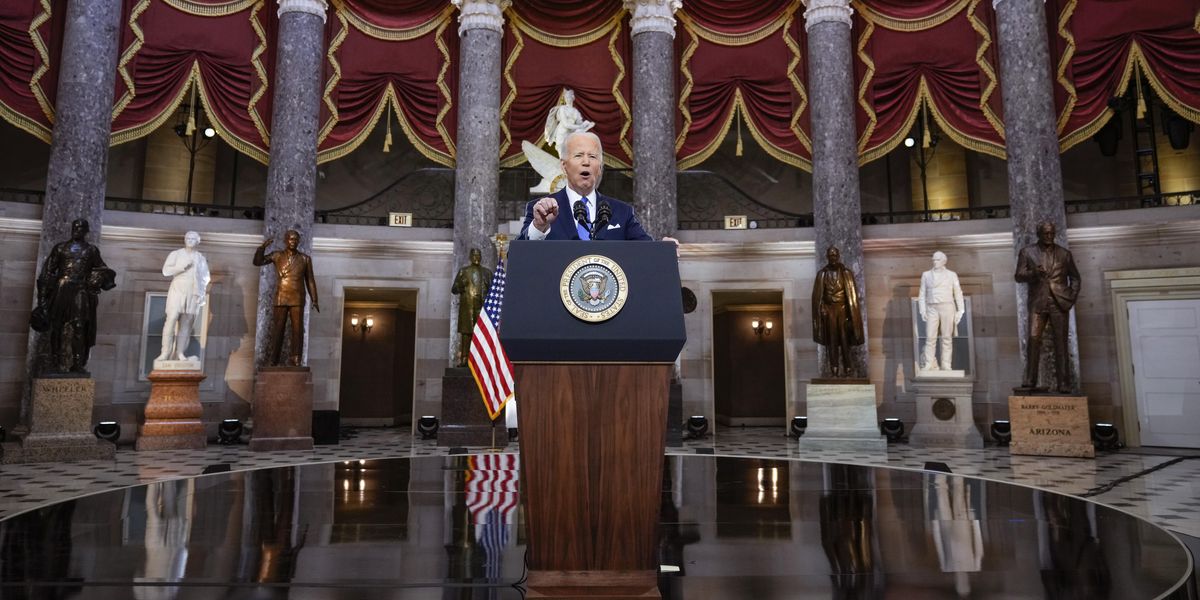 Drew Angerer/Getty Images
On Jan. 6, 2021, rioters stormed the U.S. Capitol intent on overturning a rightful presidential election, and perhaps even committing acts of violence.
The Fulcrum is devoting it's news coverage of the anniversary to a collection of remembrances from politicians, activites and others who have been impacted by that day's event. Here is a sampling of what people are saying today, and what they had to say exactly one year go.
---
President Biden
Then:
Now:
Sen. Mitt Romney (R-Utah)

Then:
Now:
Michigan Secretary of State Jocelyn Benson (D)

Then:
Now:
Sen. Ted Cruz (R-Texas)

Then:
Now:
Rep. Haley Stevens (D-Mich.)

Then:
Now:
RepresentUs
Then:
Now:
Common Cause
Then:
Now:
Sen. Lindsey Grahan
Then:
Now:
Speaker Nancy Pelosi (D-Calif.)
Then:

Now:
Former independent presidential candidate Evan McMullin
Then
Now:
Senate Majority Leader Chuck Schumer

Then:
Now:
Senate Minority Leader Mitch McConnell

"I salute and applaud those front-line U.S. Capitol Police officers who stood bravely in harm's way during yesterday's failed insurrection. We are praying today for those who sustained injuries, some serious, in the line of duty. Congress is also deeply grateful to the local officers from D.C., Virginia, and Maryland, the federal law enforcement personnel, the National Guard, and all the other professionals who deployed to help subdue the criminals and retake the Capitol.
"With that said, yesterday represented a massive failure of institutions, protocols, and planning that are supposed to protect the first branch of our federal government. A painstaking investigation and thorough review must now take place and significant changes must follow. Initial bipartisan discussions have already begun among committees of oversight and Congressional Leadership.
"The ultimate blame for yesterday lies with the unhinged criminals who broke down doors, trampled our nation's flag, fought with law enforcement, and tried to disrupt our democracy, and with those who incited them. But this fact does not and will not preclude our addressing the shocking failures in the Capitol's security posture and protocols."
"January 6th, 2021 was a dark day for Congress and our country. The United States Capitol, the seat of the first branch of our federal government, was stormed by criminals who brutalized police officers and used force to try to stop Congress from doing its job. This disgraceful scene was antithetical to the rule of law. One year later, I am as grateful as ever for the brave men and women of the U.S. Capitol Police who served our institution bravely that day and every day since. I continue to support justice for those who broke the law.
"As I said yesterday, it has been stunning to see some Washington Democrats try to exploit this anniversary to advance partisan policy goals that long predated this event. It is especially jaw-dropping to hear some Senate Democrats invoke the mob's attempt to disrupt our country's norms, rules, and institutions as a justification to discard our norms, rules, and institutions themselves.

"A year ago today, the Senate did not bend or break. We stuck together, stood strong, gaveled back in, and did our job. Senators should not be trying to exploit this anniversary to damage the Senate in a different way from within."