On biggest pandemic primary day, Pa. says riots are reason for absentee extension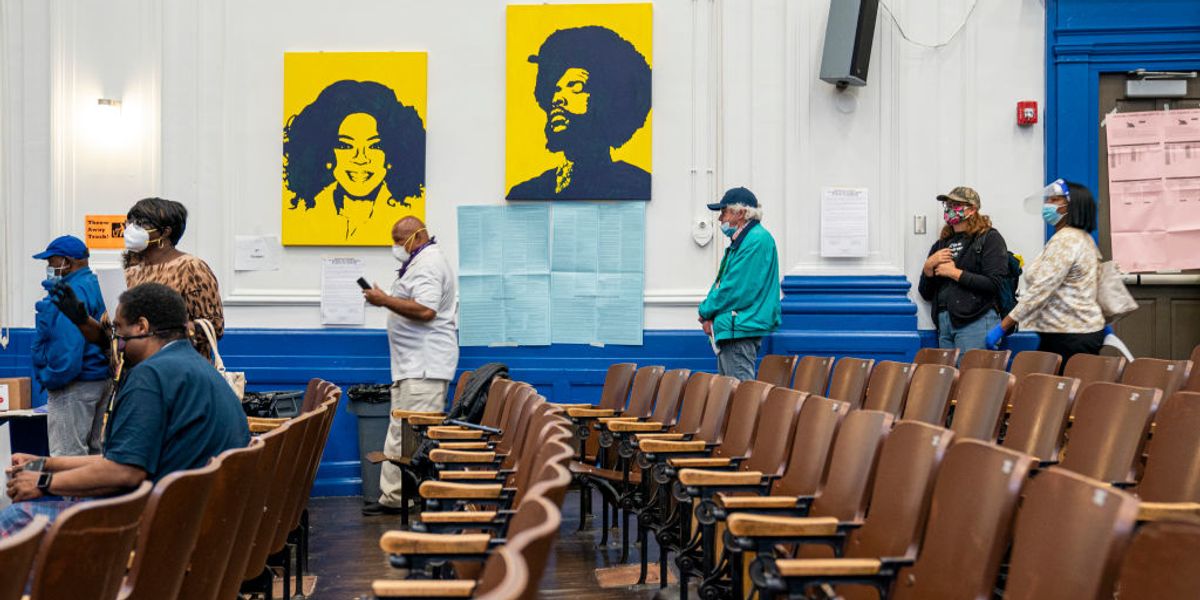 Jessica Kourkounis/Getty Images
Election officials already trying to navigate a health crisis are facing another challenge Tuesday: Conducting the most elections on a single day since the pandemic took hold three months ago, during a nationwide outbreak of protest against racial injustice.

The boldest response so far has come in Pennsylvania, one of eight states along with the District of Columbia holding primaries, where the governor is unilaterally postponing by a week the deadline for receiving absentee ballots in six populous counties.
Like most states, bellwether Pennsylvania usually counts only mailed ballots received by election day, and lawsuits seeking to force relaxation of those rules because of the coronavirus have not succeeded so far. But Democratic Gov. Tom Wolfe said Monday evening that the wave of demonstrations have made some deadline extensions essential.
---
"This is an unprecedented time for Pennsylvania and our nation as we face a major public health crisis and civil unrest during an election," he said in issuing an executive order hours before the polls opened. "Voting is the cornerstone of our democracy and I want to ensure that voters can cast their ballot and that it is received in time."
The order applies to the counties that encompass Philadelphia and its closest suburbs plus Pittsburgh, Harrisburg and Erie — all places that have seen sometimes violent protests, clashes with police and looting in the week since the death of George Floyd in Minneapolis at the hands of a police officer who knelt on his neck.
Sign up for The Fulcrum newsletter
The order notes the counties have been subjected to curfews and travel restrictions, making it difficult for people to return ballots, and that election offices in at least two counties have had to be evacuated. The six counties are all covered by a separate disaster declaration issued by Wolf in response to protests. His election order says ballots must be postmarked by the time the polls close but will be counted if they arrive by June 9.
His order drew immediate criticism from Republicans, who said the governor was acting outside his authority and violating the state and federal constitutions by changing election policies in only parts of the state. The counties are home to about two-fifths of the state's 12.8 million people.
Tuesday's elections also mark a major test for mailed-in balloting, which is likely to be a much larger portion of the ballots in the fall election. Typically, about one in four voters cast their ballots through the mail.
Democracy reformers will be watching the process on multiple fronts — whether the mailed ballots arrived in time to people's home addresses; how many are rejected by election officials for not having required signatures or other errors; and how long it takes to count the additional mail-in ballots.
Officials in all the places where the polls are open have promoted the use of absentee ballots — sometimes with rules changes, sometimes only with messaging — as a way to protect voters from exposure to the virus that causes Covid-19.
In some states, including Indiana, absentee ballot rules were temporarily changed to allow fear of the coronavirus as an acceptable reason for voting by mail.
In Pennsylvania, the elections are the first test of a package of reforms enacted last fall that eliminated the requirement that people say they had an allowable "excuse" — such as being out of town on Election Day — in order to claim an absentee ballot.
As a result, a record 1.8 million Pennsylvanians requested mail-in ballots.
The tabulation of the results from what's been dubbed the second Super Tuesday — eight presidential primaries, half of which had been postponed because of the pandemic — could allow former Vice President Joe Biden to formally clinch the Democratic nomination. He has been the presumptive nominee since early March, when he dominated the original Super Tuesday, but has not yet secured the 1,991 delegates to ensure mathematical victory and allow him to turn his full attention to the fall campaign.
One of the advantages, proponents argue, for mailed-in ballots is that they seem to be associated with higher turnout. Oregon, Washington and Colorado, which conduct their elections almost entirely through the mail, have among the highest turnout percentages of any state.
Opponents, led by President Trump, say allowing more people to vote by mail will lead to more voter fraud. This claim lacks any hard evidence.
But there are plenty of logistical obstacles that could potentially derail the expanded use of mail-in ballots, such as what happened in Wisconsin. There, mailed ballots did not arrive in time for thousands to use them to vote in April, among other problems.