Five steps toward a smoother election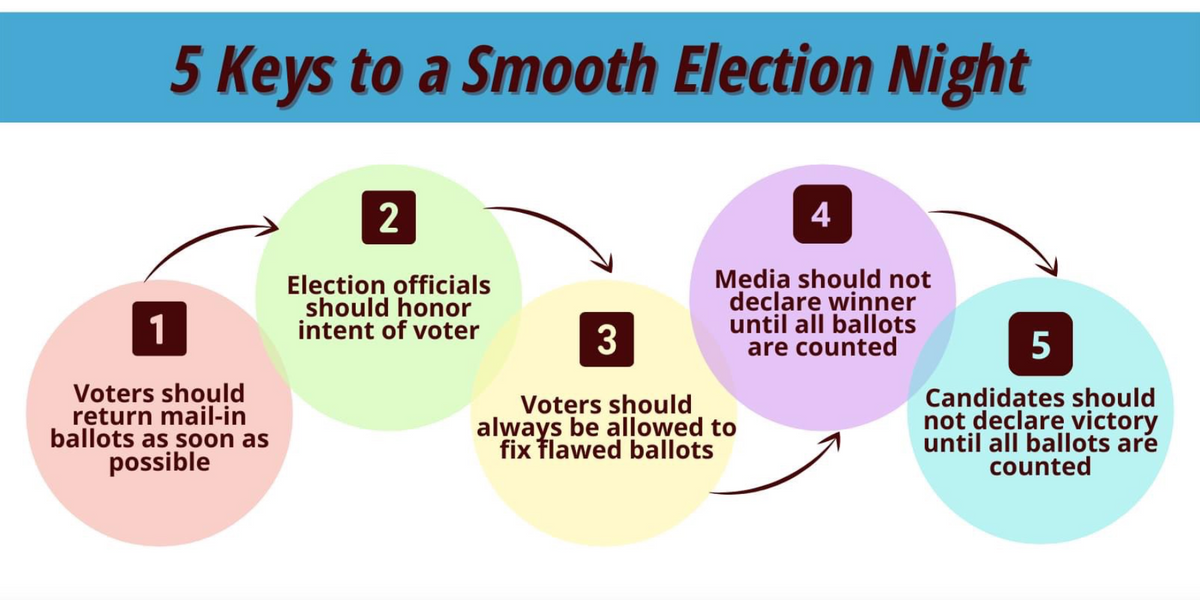 Voter Protection Corps
The evidence is clear — vote-by-mail works and is significantly free of fraud. But with a lawless president intent on discrediting mail-in ballots and setting the stage to dispute election results, we all have a responsibility to take the necessary steps to ensure election night runs smoothly and sets the stage for a peaceful transfer of power.

The Voter Protection Corps developed recommendations for voters, election officials, the media and candidates to help minimize rejected ballots and stop premature declarations of victory on election night:
---
Voters should vote as soon as possible when they receive their mail-in ballots. The U.S. Postal Service is fully capable of handling the additional demands of widespread vote-by-mail. State and local officials have moved quickly to implement voting system changes despite insufficient resources from the federal government. Still, voters should leave ample time for their votes to be received and vote as early as possible.
Election officials should make every effort to honor the intent of the voter. They should follow a common-sense standard and use their discretion to honor the will of the voter, not let minor procedural defects get in the way. And they shouldn't act as amateur signature experts.
When absentee or mail-in ballots are rejected for procedural defects, "chase" voters and help them make fixes. Election officials, states, and both partisan and nonpartisan actors should redouble efforts to contact voters who need to fix procedural errors on their ballots via phone, email, and physical mail.
Counting mail-in ballots will obviously take more time than usual. It is likely that President Trump will appear to have a lead on election night because more supporters of former Vice President Joe Biden voting by mail. The media should not declare a winner until all the ballots are counted and should remind the public to be patient. Learn more about the potential for a "red mirage" here.
Neither candidate should declare victory before all validly cast ballots — including mail-in ballots — have been counted. There is growing fear Trump and his allies may declare victory on election night and attack the legitimacy of validly cast votes received and counted afterwards. We should be skeptical of attempts by the Department of Justice to get involved in the election results and of any premature declaration of victory.
Quentin Palfrey is chairman of the Voter Protection Corps. Read more from The Fulcrum's Election Dissection blog or see our full list of contributors.