West Virginia voting rights advocates turn up heat on Manchin
https://twitter.com/saramswann?lang=en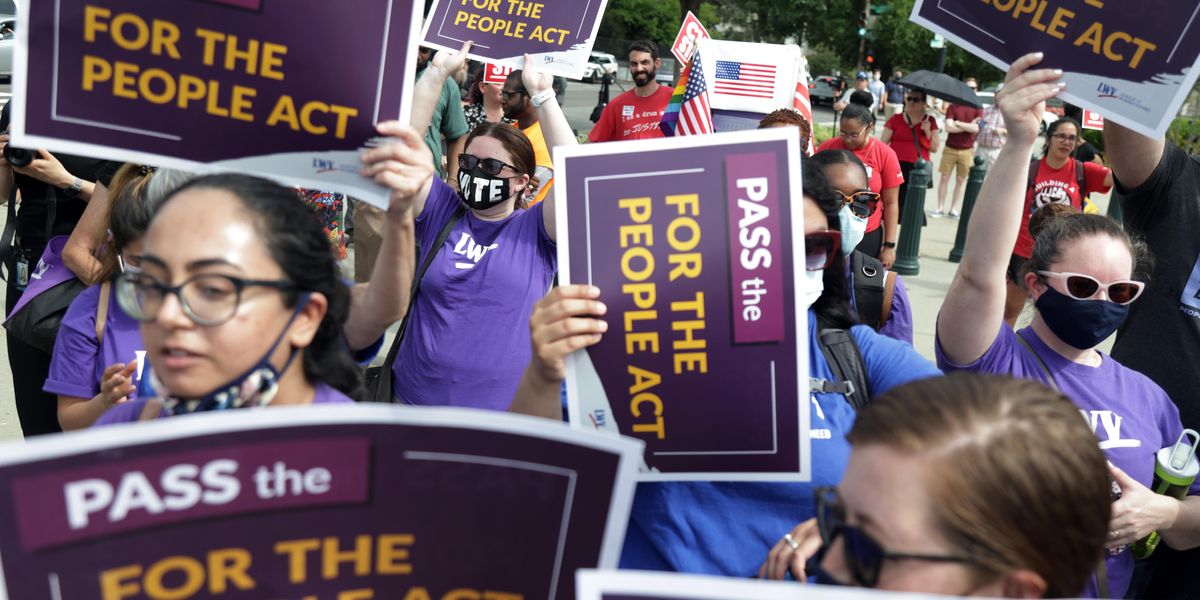 Alex Wong/Getty Images
Since proclaiming his opposition to the For the People Act, Democratic Sen. Joe Manchin has drawn a lot of ire from voting rights advocates, including some from his home state of West Virginia.

Former Secretary of State Natalie Tennant and five other West Virginia advocates vowed during a press call Wednesday to keep the pressure on Manchin in the coming weeks. The the sweeping election reform bill is scheduled to be brought to the Senate floor later this month.
In an opinion piece published over the weekend, Manchin did not say he was opposed to specific elements of the For the People Act. Rather, he said he wouldn't vote for the bill unless Republicans were also on board — a nearly impossible standard. The moderate Democrat also reaffirmed his opposition to weakening or eliminating the filibuster, dealing another critical blow to the bill's chances of success.
---
The group of West Virginia voting rights advocates pushed back on Manchin's claim that there was no bipartisan support for the For the People Act.
"Sen. Manchin has an idea of bipartisanship that is not formed or based on reality. Bipartisanship is not how many Republican senators you can get to vote for a bill," said David Fryson, pastor-elect of The New First Baptist Church of Kanawha City in Charleston. Bipartisanship, he added, is demonstrated by the broad support the legislation has among West Virginians of all political affiliations, much like it does across the rest of the country.
Sign up for The Fulcrum newsletter
An April poll conducted by Global Strategy Group and ALG Research for End Citizens United, a liberal democracy reform group, found that 79 percent of West Virginians overall, including three-quarters of Republicans, supported the For the People Act.
"So to be quite frank, it is Sen. Manchin who is not being bipartisan. What he is doing is being political. I don't see how protecting the sacrosanct of voting rights could be anything but a positive," said Fryson.
While many voting rights advocates were disheartened by Manchin's announcement, Tennant said she's not going to let it stop them from pushing forward on this issue. As she's been advocating for the For the People Act in the Mountain State, Tennant has also been actively combating misinformation and misconceptions around the bill. For instance, one falsehood she said she hears often is that the legislation would lead to a federal takeover of elections. In response to that, she emphasizes how it would actually help set minimum standards for states to make voting and elections more fair, transparent and accessible.
"When the facts aren't stated correctly or fairly, or there is this intention to mislead, that is what is so hurtful," Tennant said. "Our West Virginia voters are the ones that are going to be hurt by people just making up stuff."
Following the 2020 election, hundreds of restrictive voting measures have been introduced in nearly every state legislature. Fourteen states have already enacted a collective 22 laws limiting access to the ballot box and imposing stricter voting rules.
The For the People Act has been billed as the ultimate remedy to this wave of restrictive voting legislation. Another landmark bill being considered in Congress, the John Lewis Voting Rights Advancement Act, would also help combat future restrictive voting measures. Advocates say both are necessary to protect voting rights across the country.
Manchin wrote that, instead, he supports the Voting Rights Advancement Act, claiming it has bipartisan support. And while Republican Lisa Murkowski of Alaska has joined him in backing that bill, it appears unlikely that enough lawmakers from her party will sign on to prevent the GOP from blocking the legislation.
The West Virginia senator is receiving heat not only from his home state, but also on a national scale. On Wednesday morning, a coalition of national political reform advocacy organizations and several of Manchin's congressional colleagues gathered for a rally outside the Supreme Court. Advocates and elected officials reiterated the importance of both bills and implored Manchin to choose democracy over politics.
But it remains to be seen if any of this outside pressure will convince Manchin to change his mind on the reform legislation. Even a meeting this week with civil rights leaders did not seem to sway his stance.
The voting rights advocates from West Virginia said whatever Manchin decides on this issue will not only reflect on his legacy as a senator but also the entire state's reputation.
"I don't want us to be the state that said 'no,'" Tennant said. "We are fighting stereotypes all the time that we're backward, that we don't understand. But we do understand [...] and we could lead the way on this."