What to expect at the National Citizen Leadership Conference
https://twitter.com/clementsjeff?lang=en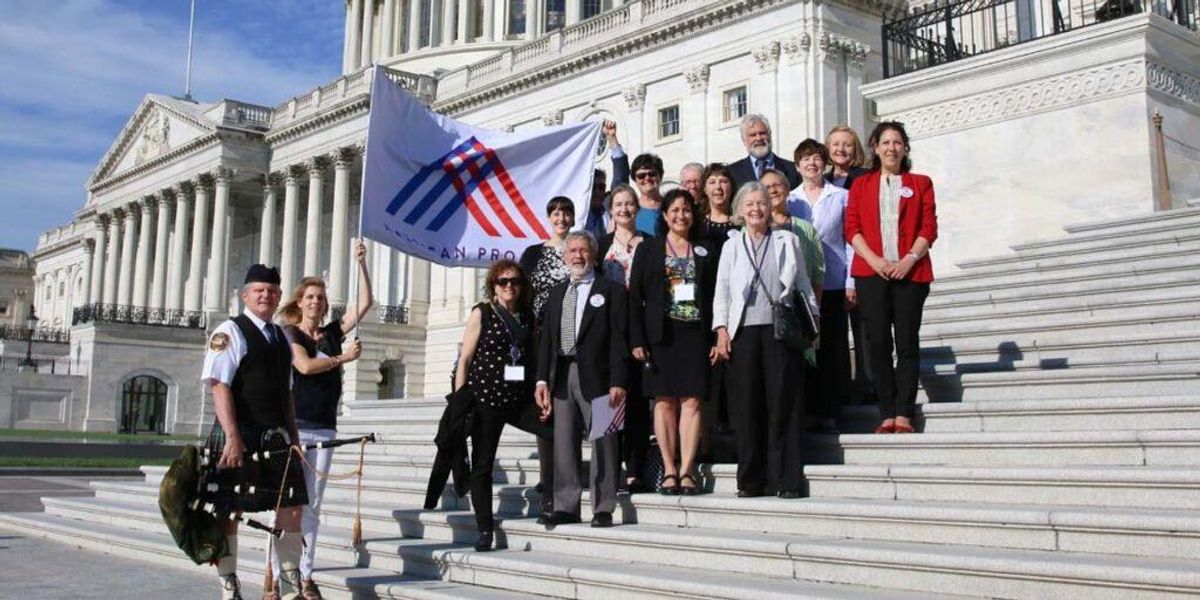 American Promise
Clements is the president of American Promise, a nonprofit advocate for amending the Constitution to allow more federal and state regulation of money in politics.

"Freedom, unity, and civic courage." That's the theme of American Promise's National Citizen Leadership Conference coming up in Washington, D.C., on Sept. 28-29.
This is the fifth annual NCLC, now a highlight of the growing nonpartisan/bipartisan reform movement. American Promise's co-sponsors include Bridge Alliance, Bridge USA, Open Secrets, the Millennial Action Project, Citizen Data, The People, the National Association of Nonpartisan Reformers, the Partnership for American Democracy and more. Registration is expected to fill, with attendees signing up from nearly every state.
---
Inspiration, connection, community, celebration ... and action.
As always, there will be inspirational speakers, including Andrew Yang, Vot-ER leader Aliya Bhatia, Rep. Dean Phillips and many more to come. Past speakers have included Doris Kearns Goodwin, former Sen. Alan Simpson, Danielle Allen, former Massachusetts Gov. Deval Patrick and Rep. John Katko.
But this is not a conference where attendees simply listen to others talk. Attendees join interactive civic and educational sessions, use the ample networking opportunities, and celebrate the growing successes across the reform and civic renewal movement. And, thanks to our generous sponsors, once again there will be Ben & Jerry's ice cream, wine and great food!
Sign up for The Fulcrum newsletter
Since American Promise's first National Citizen Leadership Conference in 2016, the country has faced challenges and hard times. This 2022 conference takes stock of the remarkable successes since that first year and highlights the energy more and more Americans are bringing to the demand for long-overdue reform.
Whether we are, as many think, approaching an era of historic reform and renewal will be proved by three markers of reform bursts that have pulled America from the brink in past periods of crisis:
Is it cross-partisan?
Is it focused on constitutional, structural reforms and new practices, regardless of or in challenge to entrenched interests?
Is it forward-looking, with a goal of transferring power to a new generation, determined to do things differently?
At the National Citizen Leadership Conference, you will see that the answer to these questions is "yes."
A new generation of young, tough leaders
You will be with Republicans, Democrats, independents, conservatives, progressives, liberals, moderates and everyone in between. You will find that your fellow attendees, despite different affiliations or perspectives, are much more focused on how to unite and succeed in building civic values, civic trust, and civic structures and practices that protect constitutional democracy, rather than with any single election or candidate. And you will meet inspiring leaders from a new American generation.
Bill Cortese is American Promise's executive director. He lives in Fort Mill, S.C.
Bill grew up in a working-class community in Danbury, Conn. As with many in his generation, his life has been shaped by Sept. 11, 2001. He was 15 years old when al-Qaida terrorists steered hijacked passenger planes into the sides of both World Trade Center towers and into America's military headquarters at the Pentagon, killing 3000 people. That day, Bill told a friend America was going to war, and he declared that he would join the Marine Corps as soon as he could.
In the meantime, seeking to contribute, he started organizing fellow students to knock on doors and spread the word about a local teacher who was running as a Republican candidate for the state legislature. After his high school graduation, Bill did join the Marines and was deployed to the Horn of Africa. He served with distinction and honor.
After returning home, he never forgot the feeling that every American, even a 15-year-old high school kid, has a voice and can make a difference in campaigns and policy. Bill took on lead roles in Republican and nonpartisan campaigns and policy initiatives around the country. He has advised and guided business and communications strategies and public affairs, and provided commentary across a wide variety of media. Now he is committed to leading American Promise's campaigns and programs around the country.
"I think of 15-year-old Billy Cortese 20 years ago, having a voice and knocking on doors, and I just don't see that working anymore," he says. "Now, it's all about the super PACs, dark money, even foreign money operations coming into campaigns right down to local elections. Our constitutional solution is for every American that wants to end this corrupt system and renew the American promise for a new generation."
Layla Zaidane is the president and CEO of the Millennial Action Project, which seeks to "transcend polarization through millennial leadership." MAP manages a cross-partisan Congressional Future Caucus of 39 young members of Congress, and a State Future Caucus, engaging 1,600 young elected leaders from across the states and the political spectrum.
Layla grew up in New York, after her parents emigrated from Morocco. As she entered high school, September 11 "rocked me, as with a lot of other millennials." She went to college in D.C. and then began working with other young Americans on improving politics and strengthening institutions. Talking with young Americans around the country, she found that most were much less interested in partisanship – "where the idea came from" – rather than whether the idea solved real problems in their lives. Layla leads MAP to empower young state and federal elected leaders to unite on generational lines rather than party lines to work on solutions for their communities and the country.
Manu Meel is the CEO of Bridge USA. Manu grew up in Lexington, Mass., a birthplace of the American Revolution. His current passion and work, however, came out of his experience 3,000 miles away while attending the University of California, Berkely. In 2017, Manu was a sophomore when violent protests ended a talk by a conservative activist who had been invited by a group of student Republicans. Disruption and ongoing controversy about free speech roiled the campus.
Manu stepped in to help lead the local chapter of Bridge USA, a new student nonprofit with only three campus chapters at the time. It was committed to bridging differences among his generation, changing how politics and debate operate so students of different views could listen to each other, debate each other and learn from each other.
Bridge USA "emphasizes the importance of empathy and understanding, ideological diversity and solution-oriented politics," says Meel. "By engaging America's youth in constructive discussions, we are equipping the next generation of leaders with the skills necessary for navigating conflict, finding solutions across differences and building bridges in their communities."
After graduating amidst the pandemic, Manu and his team took on the project of expanding Bridge USA, now the fastest-growing student movement in the country, with chapters at 69 colleges and high schools. Manu also serves on the board of American Promise because he is "most excited to see a political system where all Americans have an equal voice. The crisis of money in politics is not a partisan issue, it is an American issue."
Jessica Hare is vice president of outreach at American Promise. She never liked politics, with its divisiveness and excuses for failure. She preferred directing her energy and experience into social work, where she says "the primary mission is to enhance human well-being and help meet the basic human needs of all people."
Known as Dr. Jessica to her friends and colleagues, she grew up in a small town in rural South Carolina. She excelled in high school and earned a full scholarship to Winthrop University in Rock Hill, S.C., where whe became a leader on her Division I basketball team. She went on to earn her master's and doctorate degrees in social work.

"When I came to American Promise, I said, 'You all are doing social work; you just don't know you're doing social work.' I take pride in my social work profession, and I particularly pay close attention to those who face issues that the wealthy elite normally do not face. We have to develop practical, applied solutions to large-scale systematic issues that directly impact vulnerable, marginalized or otherwise underprivileged populations."

At the conference, Dr. Jessica will share best practices and programs to empower Americans to take effective civic action, unite across differences and build partnerships.

Join the conversation. Join the conference. Join the movement.

There is no better time to catch up with these and many more citizen leaders, as well as the fast-moving events that are shaping American democracy. You can shape it too. See you at the conference!