Share of independent voters is forecast to increase steadily
https://twitter.com/saramswann?lang=en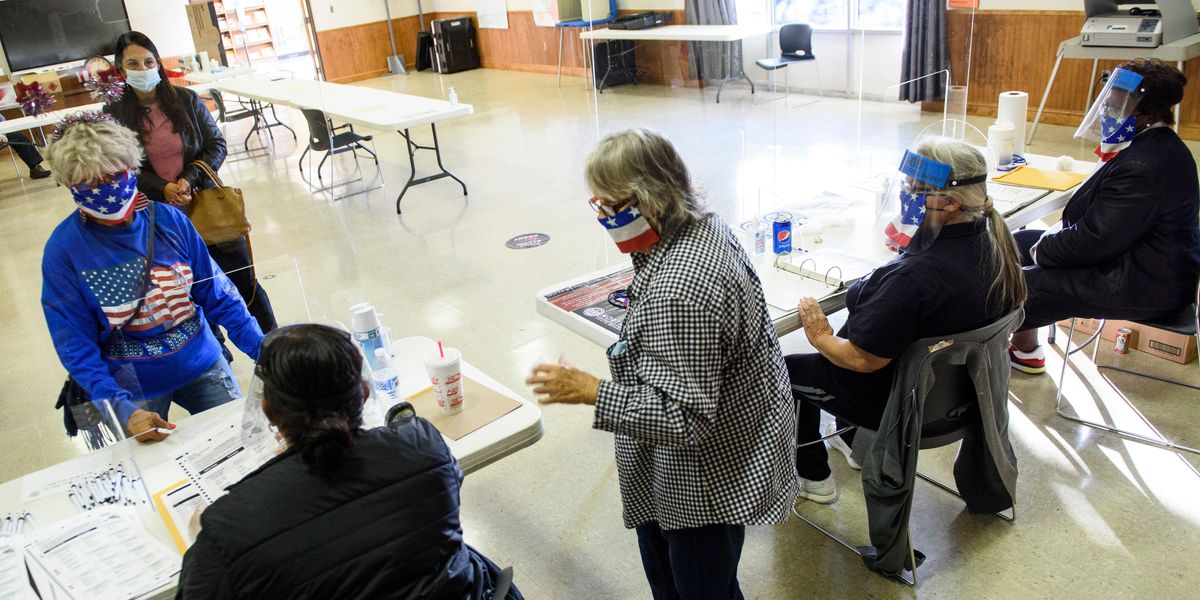 Melissa Sue Gerrits/Getty Images
While American politics comes off like a death match between Democrats and Republicans, off camera more and more voters are choosing not to affiliate with either party — and those numbers look destined to grow.

The share of independent voters has trended upward in the past two decades, and this fall accounted for 36 percent of the electorate, according to Gallup. A report released Monday projects this unaffiliated population will continue growing over the next 15 years.
With the electorate continuing to move away from past loyalties to the red and blue teams, many democracy reform groups see the time as ripe to make the political system adapt to better represent and accommodate independents. The report was prepared by the Open Primaries Education Fund, which is aligned with one such group that advocates for policies weakening the red and blue duopoly.
---
In 30 states, citizens may choose whether or not to affiliate with a political party when registering to vote. Nineteen states do not register voters by party, and North Dakota doesn't require registration at all.
The Open Primaries report projected that, in the states with partisan voter registration, nearly three-quarters are expected to see an increase in independent registrations by 2035. Four of this year's biggest presidential battlegrounds are forecast to see growth in unaffiliated voters.
Sign up for The Fulcrum newsletter
Of the states carried by President-elect Joe Biden, North Carolina is estimated to have the biggest increase, at 14 percentage points, followed by Arizona (10 points) and Pennsylvania (2 points). The growth is expected to be 8 points in Florida, where President Trump this fall continued a string of narrow wins in statewide races for Republicans.
Just four states are on course to see their shares of independent voters decline: Utah (34 points) and Idaho (24 points) among places now dominated by the GOP; New Jersey (18 points), Rhode Island (5 points) and Connecticut (4 points) among the Democratic states; and purple-these-days Maine (3 points).
As the share of independent voters increases, the number of Americans registered with the Democratic or Republican party is expected to dwindle. Thirteen states are expected to see a registration decline or stagnation for both major parties, and another 13 will see a drop in just one party's registration.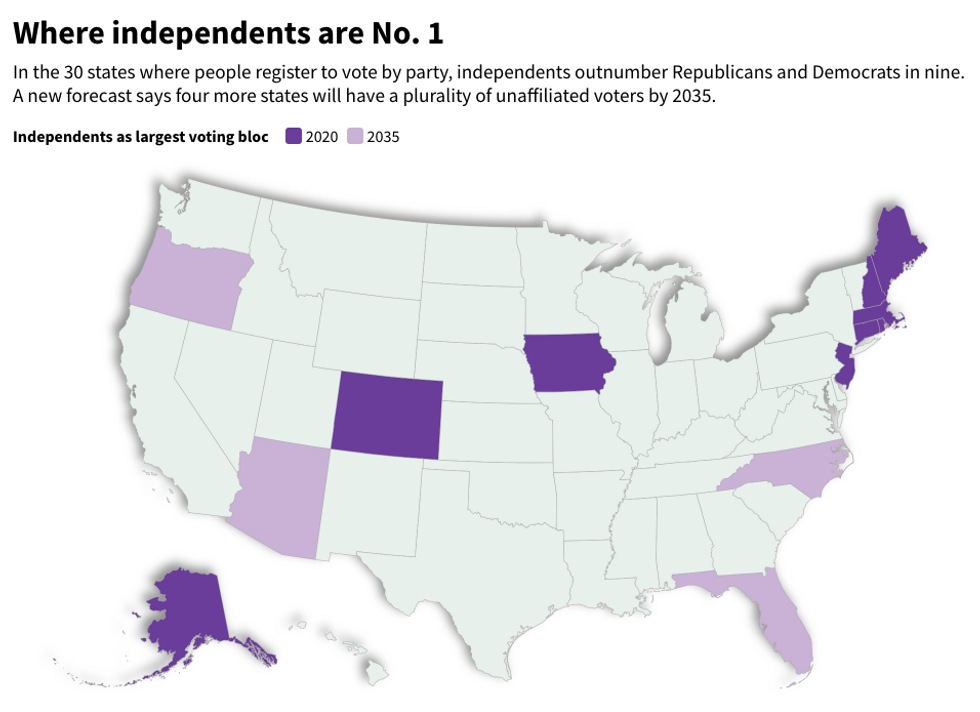 Source: Open Primaries Education Fund
Independents currently make up the plurality voting bloc in nine states with partisan registration, and the report predicts that will become the No. 1 registration choice in four new states during the next 15 years.

The report concludes that in order to keep up with these voter affiliation shifts, more states need to eliminate the party registration requirement and adopt open nonpartisan primaries in which all voters can participate.
Alaska voted this fall to join California and Oregon as states with singular primaries for Congress and all state offices — open to all registered voters, and with candidates of all stripes listed on the same ballot. The ballot measure Alaskans approved will advance the top four finishers to the general election. A solid majority of 57 percent of Floridians voted for top-two open primaries for state positions, but a supermajority of 60 percent was required.
"The United States is going through a political realignment," the report concluded. "Unlike past realignments, which involved the emergence, repositioning, and/or obsolescence of entire political parties, the accelerating national trend of the last 30 years is voter disaffiliation from the Democratic and Republican Parties."