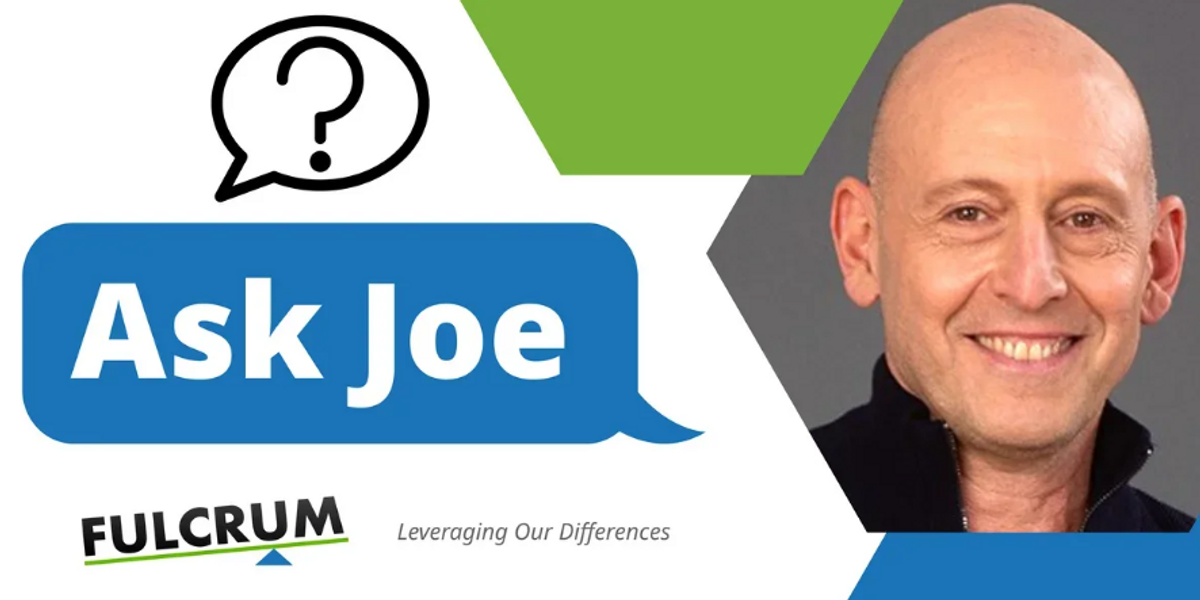 Hi Joe,

In theory I think it's important to have empathy and understanding for everyone. I try my best to do that. But these days, there are just certain people in my immediate and peripheral circles that I don't want to communicate with anymore. I don't feel they deserve my attention. They are mean, hurtful and only want to cause problems. According to your approach, are you saying I must try to engage with them?
---
No Way
Hi No Way,
If you feel that there are no benefits to engaging with these people, or that they may be a threat to your safety, then don't engage with them for now. This is the "fierce" part of Fierce Civility. I developed Fierce Civility as an antidote to what I call "chronic niceness.". When we feel we have to be nice to everyone, even those who cause harm and division, we are on some level actually contributing to the problem. We are reinforcing their behavior.
If you have been reading my column, you may have already heard me say that the key to breaking through the stagnation created by the extreme polarization and opposition is committing to finding new alliances in surprising places. In other words, if only hanging out with people who already agree with you was going to solve our world problems, we would have already solved our world problems. So, the logical conclusion is that we need to not only get along with those who are different, but do the necessary messy and challenging work of finding common ground, healing, reconciling, and together coming up with new solutions that meet the needs of all involved.
Sign up for The Fulcrum newsletter
So, while the process includes cultivating ways to open our hearts to more people regardless of their political, religious or cultural beliefs, we can also use common sense and internal wisdom to be discerning, rational and fierce in determining with whom we choose to invest that kind of time and energy.
The "sport" of Fierce Civility is to utilize the insight and clarity to distinguish between those who are fully entrenched in their positions and have no regard for what others think or feel, and those that may see the world differently from you but still understand the fundamental truth that Eleanor Roosevelt warned us about in 1960 at the height of the Cuban missile crisis: "We have to face the fact that either all of us are going to die together, or we are going to learn to live together; and if we are to live together, we have to talk."
This is an invitation for each one of us to take the time to honestly contemplate the state of the world and determine if we want to be a part of the problem or the solution. Here we are in 2023, and we are at a serious inflection point in this country where a significant (not major) number of citizens are in support of insurrection and the breakdown of governmental institutions. They are not seeking healing, reconciliation and systems that benefit all of us. I would like to believe that this is not an opinion, but fact. Normalizing them, or equalizing them with other citizens who do respect the rule of law and our current governmental institutions regardless of their worldview, is chronic niceness at its highest, and a major cause of the perpetuation of the problem.
If this is the case, and if we want to be part of the solution, then we can stand strong in our decision to not directly engage with them at this time. When we embrace this, we have just freed up time, energy and resources to build new bridges and strengthen the alliances we currently have. And, No Way, I believe that there are more of us who want to see a peaceful resolution than those who don't.
This doesn't mean that you should ignore them or make believe that they don't exist. If you noticed, I italicized the phrases "for now" and "at this time.". Choosing not to engage with a family member, or work colleague, or neighbor right now doesn't mean that they, or you, or the situation will never change. So, while you can set clear boundaries now, you can also be curious and give the other the benefit of the doubt, keeping the hope and possibility open that things can shift. But until that moment, let's turn our focus to the millions and millions of people with who do want to see a peaceful, civilized, mutually beneficial way of out our current dilemma.
There is, of course, much more subtlety in these viewpoints than what I can present here. Implementing this requires new kinds of skills and strategies to navigate the complexity of this. But the fundamental message is that setting clear boundaries can be seen as an act of fierce kindness and doesn't necessarily imply that we are creating separation or opposition. We are actually increasing the effectiveness of our commitment to seek solutions, as well as the efficiency of using our precious time, energy and resources in a more productive way.
Be fiercely kind, especially to yourself,
Joe
Check out Joe's new bestselling book Fierce Civility: Transforming our Global Culture from Polarization to Lasting Peace.
Have a question for Joe? Send an email to AskJoe@fulcrum.us.