Ask Joe: Warring with AI is warring with ourselves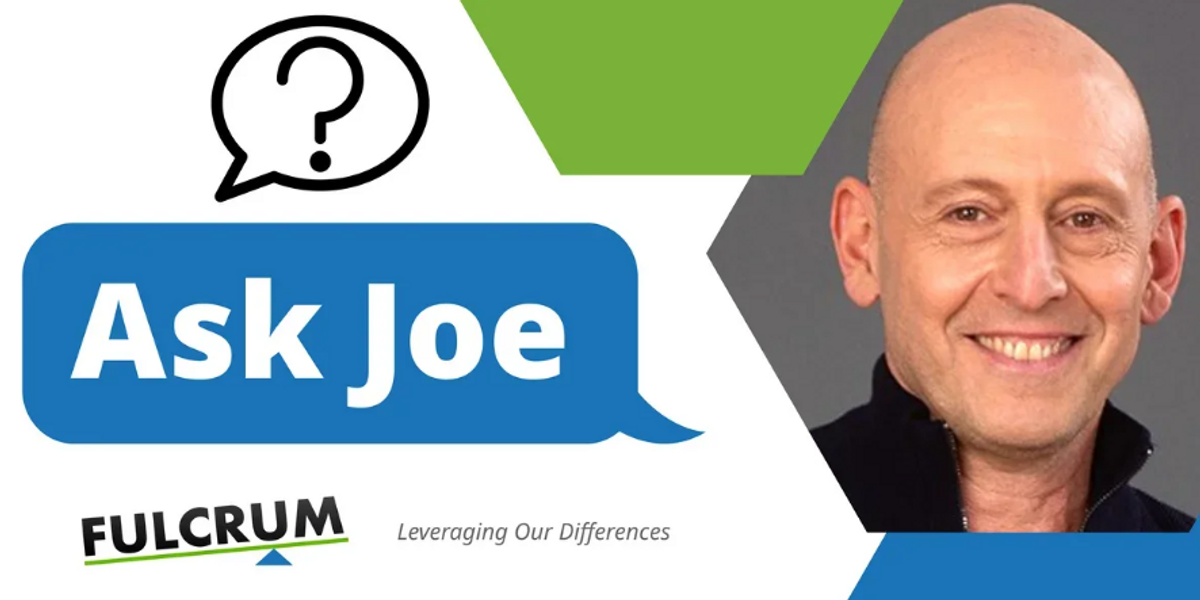 Hi Joe,

I'm proud of the work I do for democracy and bridge-building, but some days are harder than others in terms of feeling like things are changing. The level of misinformation continues to get in the way of connection. It's harder to know what's true and what's not. And now with AI becoming such a huge thing, it feels like what's the point of trying to build community? How do we combat something as big as the threat of AI?
---
Digitally Overwhelmed
Hey Digital,
Yes, this is a serious concern that seems to be on everyone's mind lately. People ask me often how my heart-centered Fierce Civility approach can stand up to the threats we see with mis- and disinformation, as well as how ChatGPT and AI are making it more difficult to know what is real or not. I stand firm in my response: It's not technology that we should worry about; it's humans. Digital intelligence on its own cannot be harmful; how people use it can. Our lives have become so enmeshed with – and dependent on – the internet that we have forgotten how new it is (30 to 40 years) in relation to the millions of years of human existence.
Sign up for The Fulcrum newsletter
Like any new tool or technology (i.e. like a car, gun powder, or electricity), it takes time to learn how to use it in both a skillful and safe way. In other words, we're still trying to figure out how to use artificial intelligence and digital communication in a balanced, responsible and productive manner. However, like many discoveries throughout history, we have unfortunately used the power of these advancements to reflect the worst in us.
Let's recall the spectacular moment in 1932 when we humans successfully split the atom. We suddenly had unlimited resources and power to work with in inventing technologies that could have increased the quality of all life on the planet. And what did we do? In less than 40 years, we unleashed atomic power, creating a bomb that had the capacity to wipe out said life in a matter of moments. You may know the history of the atomic bomb's creation in the US. A brand-new city was built for this project; the greatest scientists around the world and their families were relocated here as an unlimited amount of money and resources were poured into this project. Now, imagine if that same level of commitment, creativity, resources, military backing, and brilliant minds were brought together for the sole purpose of inventing a new diplomatic system that would non-violently bring about peace with Japan. Or ensure a strong alliance with the USSR. Or create the circumstances for global lasting peace.
That didn't happen. But it could have. Why didn't it happen? When we take the time to sift through all of the confusion in the current state of our world and recent history, what reveals itself as an overarching reason: We have created a world system that is technologically overfed and spiritually malnourished. Our priorities focus predominantly on profit, domination, fear, and greed over the qualities of the heart and respect for life. Time and time again, we have essentially sidestepped the enormous power of the human spirit—the part of us where our compassionate wisdom and common sense reside, and where we have the capacity to respectfully engage and make decisions based on respect, honor and generosity. Until these issues are addressed and resolved, we will continue to remain in cycles of opposition, deluding ourselves that we are actually making progress.
Human beings created AI. Therefore, human beings have the capacity to influence it. However, if we continue to focus on AI as the "bad guy", we will only continue down the daunting path that we are concerned about. It's not AI that we need to regulate and reel in; it's us. I believe that the root causes of the problem are human greed and the overindulgence in our devices. Because we are spending so much time online, too many of us start believing that what we see on our screens is real life. We lose access to our hearts, our bodies, and authentic human connection. We spend too much time in our heads, creating stories of separation, continuously in a state of warring instigated by social media.
To get from here to there, we must step out of the noise. The remedy is not easy, but it's simple: We need to cultivate a way of communicating that fosters trust and collaboration, and lessens the extremes of division, fear and mistrust. We must move through the mental constructs that create separation, get back into our hearts and remember who we are at our best – all of us!
For me, being in one's heart is not some saccharine-sweet greeting card sentiment. It is a strategic way of being, supported by a comprehensive set of skills that challenges us to embody courage, wisdom and patience. When we lose ourselves in the digital world where AI has the potential to be a threat, it is connecting with our hearts, getting into our bodies, breathing the same oxygen as others in real time that will always bring us back. Imagine this, Digital: what if we built a brand-new city, relocated the greatest minds and scientists around the world and their families to this city, and, with an unlimited amount of money and resources, committed to inventing a new and powerful system that programmed into AI the deepest aspects of love, compassion and our highest human guiding principles of respect, dignity, belonging, freedom and collaboration? The purpose of this would be to infuse a balanced diet of both technological and spiritual nourishment into AI in order to bring about peace. It could happen. But will it? That's up to us. The question is: at this point, do we have a choice?
The improbable is not necessarily impossible,
Joe
Learn more about Joe Weston and his work here. Check out Joe's bestselling book Fierce Civility: Transforming our Global Culture from Polarization to Lasting Peace, published March 2023.
Have a question for Joe? Send an email to AskJoe@fulcrum.us.