Biden delivers partisan call to defend democracy
https://twitter.com/davidmeyers?lang=en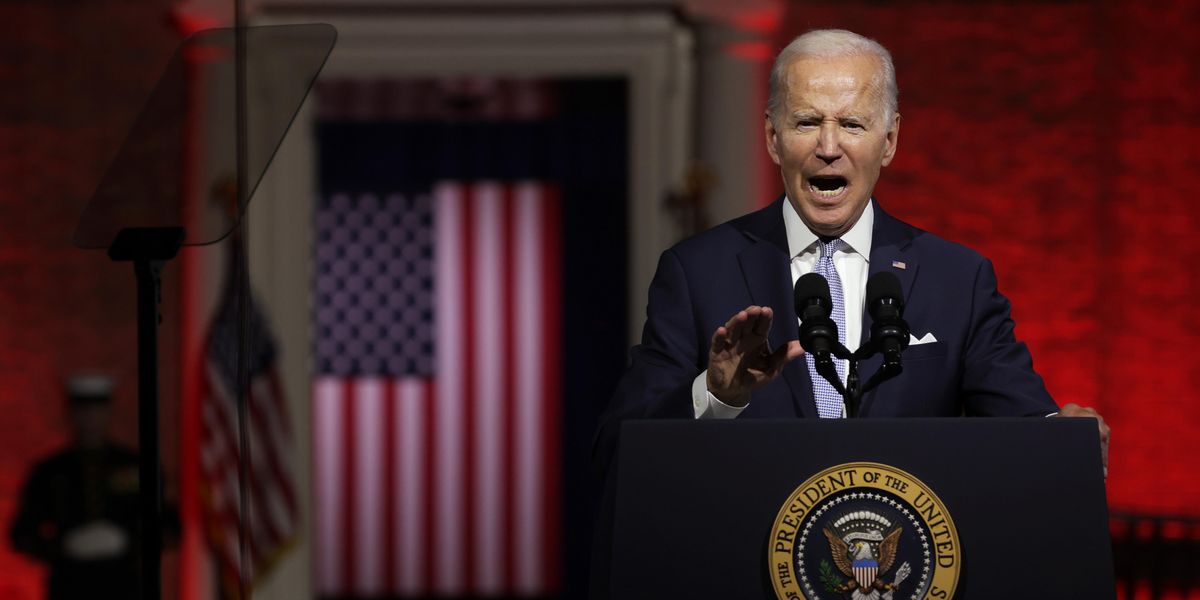 Alex Wong/Getty Images
Three months out from the midterm elections, President Biden used the cradle of American democracy to deliver a primetime address Thursday, warning the nation about perceived threats posed by segments of the Republican Party.

After opening with remarks about the location – Philadelphia's Independence Hall – citing three of the most iconic words in American history – "we the people – Biden pivoted into a partisan portion of his speech.
"Donald Trump and the MAGA Republicans represent an extremism that threatens the very foundations of our republic," he said.
---
Biden, who spent much of his long Senate career building relationships across the aisle was quick to explain he wasn't painting all Republicans with the same broad brush:
"Now, I want to be very clear, very clear up front. Not every Republican, not even the majority of Republicans, are MAGA Republicans. Not every Republican embraces their extreme ideology. I know, because I've been able to work with these mainstream Republicans.
"But there's no question that the Republican Party today is dominated, driven and intimidated by Donald Trump and the MAGA Republicans. And that is a threat to this country."
But he went into great detail to describe the threats he feels the MAGA wing of the GOP poses to the United States and democracy.
Sign up for The Fulcrum newsletter
"MAGA Republicans do not respect the Constitution. They do not believe in the rule of law. They do not recognize the will of the people," he said. "They refuse to accept the results of a free election, and they're working right now as I speak in state after state to give power to decide elections in America to partisans and cronies, empowering election deniers to undermine democracy itself."
Trump allies who have claimed, without evidence, that the 2020 presidential election was stolen by Democrats, are running for positions that would put them in charge of future elections across the country. Many of them are still, nearly two years later, trying to "decertify" the 2020 results.
Nick Penniman, CEO of Issue One, was quick to share an example.
\u201cThis is part of the trend the President was referring to tonight... \ud83d\udc47\ud83c\udffb\u201d

— Nick Penniman \ud83c\uddfa\ud83c\uddf8 \ud83c\uddfa\ud83c\udde6 (@Nick Penniman \ud83c\uddfa\ud83c\uddf8 \ud83c\uddfa\ud83c\udde6) 1662082506
Trump responded to Biden's speech on his social media platform, Truth Social.
\u201cTrump on Biden's speech tonight: \u201cHe must be insane, or suffering from late stage dementia!\u201d\u201d

— Zachary Petrizzo (@Zachary Petrizzo) 1662091939
And Trump allies, such as House Minority Leader Kevin McCarthy, also criticized Biden's address.
\u201cInstead of trying to bring our country together to solve the MANY problems he has created, President Biden has chosen to divide, demean, and disparage his fellow Americans\u2014simply because they disagree with his policies.\n\nMr. President: you owe millions of Americans an apology.\u201d

— Kevin McCarthy (@Kevin McCarthy) 1662081282
While many of the large bipartisan or nonpartisan democracy reform organizations had not commented on the speech as of Friday morning, the Declaration of American Democracy did issue a statement Thursday night.

"We commend President Biden for reiterating the importance of protecting and strengthening democracy. We are hopeful that the President will use the full power of his presidency to act, as a select few Senators continue to stall transformative federal legislation that would guarantee the right to vote," said Christine Wood and Allison Pulliam, co-directors of the coalition, which includes such groups as RepresentUs, the Campaign Legal Center, Business for America and Vote.org. "The Biden administration can seize on this defining moment for our democracy with concrete action to fight corruption and limit the power of major contractors to have an outsized influence on our elections through secret political spending — all with the stroke of a pen."